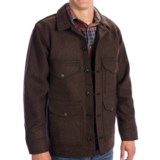 Closeouts. Famed for its balance of exceptional warmth, durability and functionality, Filson's Mackinaw Cruiser jacket is constructed of Mackinaw wool and offers a time-tested barrier against wind, rain and cold.
Questions about this product? Get answers from community and staff experts.
Question
(2 Questions)
Answer
(3 Answers)
"Is this the Seattle or Alaska fit? I have seen both answers"

The style marked on the label is 10043FJ. Looking at the Filson site, that seems to confirm my impression it is "Alaska". Not sure what the "FJ" stands for... 'Filson Jacket'?

"I too would like to know if this Filson Mackinaw Cruiser is the "Alaska" or the "Seattle" fit.... This question has already been asked, but not yet answered. Thanks."

This jacket has the Seattle fit.

The one I received was Alaska, which is product number 10043. Seattle fit is 10400.