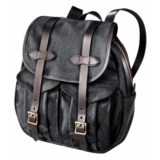 Closeouts. The classic rucksack has a long legacy of utilitarian appeal, and this Filson rucksack revives the tradition in this virgin wool replica, designed for the city sophisticate. Made to flawless standards in the USA, with genuine bridle leather trim.
Average Rating based on
6
reviews
4.833333
0
5
Reviewed by Mrdi from California on Tuesday, August 20, 2013

Nice hand, good daypack size, Filson workmanship

Reviewed by Onemanwolfpack from North Carolina on Thursday, July 25, 2013

Simplistic, yet beautiful and rugged appeal result from the quality of materials used to manufacture this bag. Not as tough as Filson's canvas items, but I couldn't be happier with my purchase. I am not a light packer and I can easily fit about a week's worth of clothes in this bag (rolling style). The bag expands, is larger in person than anticipated, and remarkably holds a great amount. It is not the most readily accessible bag, with the two belt straps, but they give the bag an extra bit of character. As with all Filson products I've owned, this bag surpasses all expectation. Sort of wish it featured two small pockets on the side, but I won't complain. More importantly, it would be nice to have a slim zipper pocket placed on the underside of the storm-flap. The two pockets on the face of the bag are very deep, which is nice, and the pouch on the backside of the bag is useful as welll. All-in-all, I couldn't be happier with this classic bag. What a steal I got it for too (70% off). Gotta love STP! I look forward to carrying this bag on countless trips for many, many years to come.

Reviewed by Jason from Chicago, IL on Thursday, June 6, 2013

Filson remains from another era and proves the antithesis of super-lightweight outerwear and luggage. This rucksack is the perfect example. There is no laptop sleeve to slip your computer in. The leather straps lack padding. You are carrying this rucksack because it looks good, period.

I owned this bag many years ago in twill. It is built to last for decades, looks even better after a few years' heavy wear, and garners numerous compliments. My only complaint is that it becomes uncomfortable to carry after a short while: the leather straps cut into my shoulder and lack of back padding made it even more so.

Now I have purchased the wool rucksack. It is beautiful, sophisticated, certain to gather compliments, impeccably made. Tough as it is, I am unsure how well the wool will hold up. It doesn't seem the most practical fabric, and it's not a warm-weather choice, so I have put this bag away until fall.

I couldn't imagine paying $460 for this bag, but with the STP price it's an affordable example of Filson's excellence.

Reviewed by Why not have the best. from Florida on Monday, June 3, 2013

This is a very high end rucksack with quality wool and bridle leather. It is great for carrying around in the city or on a plane. Oh, by the way, you can also use it in the woods.

Reviewed by Filson purchaser from North Carolina on Wednesday, May 29, 2013

This is a well built and really nice looking product. But, not suited for traveler needing quick and regular access to contents of bag.

Reviewed by James from New York on Tuesday, May 21, 2013

I've had several filson rucksacks over the years, but this is the first wool one I've had. It is really a gorgeous bag. Wool is soft but seems tough. Beautiful attention to detail in typical Filson fashion. Love that they're still made in USA. At $460 retail it would be tough to justify for me, but Sierra's price is insanely good and worth it. Very satisfied.