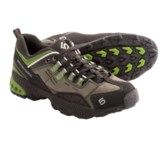 Closeouts. With a reinforced nubuck upper and cushioned midsole, Five Ten 5/10 Dome hiking shoes are flexible enough for fast and light hikers and stable enough for trail runners who encounter technical terrain.
Average Rating based on
7
reviews
4.285714
0
5
Verified Buyer

Reviewed by B from TN on Tuesday, August 5, 2014

Size was good. Shoe seemed to be a solid hiker. Stealth rubber is the best rubber PERIOD. They just didn't fit me right. There was a seam that sat right on top of my small toe in both shoes. Its where all the material for the toe box comes together. The shoe did seem to be slightly on the narrow side and maybe that's why I noticed it so much. I tried wearing them around to justify keeping them but decided that after a couple miles that seam be a sore spot.. Had to send em back unfortunately.

Verified Buyer

Reviewed by Keeley from Wisconsin on Tuesday, July 1, 2014

The shoe seamed to have all the good stuff, and a great sticky sole but the toe box was narrow.

I ordered a US 10.5 to long and than a US 10 and that was to narrow in the toe box.

My foot is 27.5 CM long. or a euro 43.5 / US 9.5

Maybe STP can try out this formula on their staff and see if it works.

Measure your foot length in CM and then use this formula.

SIZE = 1.5 x (foot length in cm + 1.5)
That means, if your foot length is 28.5cm, you would add 1.5 to that, to give you 30. Before multiplying by 1.5 to give you a European Shoe Size of 45 (assuming you have a normal width of foot and a normal arch).

I think the key is knowing if the shoes are euro based or US based sizing.

And toe box size.

My foot is 27.5 CM long. or a euro 43.5 / US 9.5

Depending on the toe box size, I normally go 1/2 size up to a euro 44 or US 10.

Also measure the foot bed in CM all my shoes that fit good are 28.5 cm long foot bed.

I ordered a pair of ASOLO size EURO 43 2/3 / 28.5 CM foot bed and the fit is perfect.



Verified Buyer

Reviewed by Branch Whitney from Las Vegas, NV on Thursday, June 26, 2014

This shoe features Stealth Rubber. It really sticks to the rock and gives you confidence. This model is beefier than some of the other 5/10 shoes I have owned. I believe they will last longer. Scrambling in Red Rock Canyon (Las Vegas, NV) really tears up shoes. I will see how long they last. For me the toe box is plenty roomy and I recommend these shoes.
I am the author of Hiking Las Vegas and creator of the 52 Peak Club.

Verified Buyer

Reviewed by Jakezoe from Arizona on Thursday, June 5, 2014

Hike rocky trails several times a week. This company makes great shoes. Sticky, great stability runnig down faces, etc. Comfortable too.

Verified Buyer

Reviewed by SMoon from Gorham, ME on Monday, June 2, 2014

Had the guide previously, and tried this for something lighter. Fit's great and has a good, stable platform.

Verified Buyer

Reviewed by Lee az wilderness from Tempe az on Wednesday, May 14, 2014

I really love these shoes, I live in the rugged Arizona desert so I need a shoe that can handle the terrain. These are really rugged, a nice solid feeling shoes, the bottoms are rigid enough to not let rocks poke you from underneath, and the soles are very grippy. They are super comfortable and supportive on top of everything else.

Reviewed by Johnny RC from Montana on Friday, May 2, 2014

I like 5.10 shoes, I have several pairs for mountain biking and hiking. Bought these on a good deal, and everything is the excellent 5-10 quality except the insoles. There is ZERO cushion in these shoes, maybe it's for the approach, so you can feel the rocks well? But, I had to buy inserts, as it felt like walking bare foot on concrete. The stealth rubber is great, and the shoes look good, so I spent the $20 on good insoles and will deal with it. Was just dissapointed as I love every other pair of 5-10s I have.