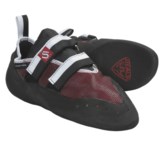 Closeouts. Boasting an aggressive, downturned toe that excels on steep edges, pockets and overhanging rock, Five Ten Blackwing climbing shoes are precision slippers that are easy to get on and off.
Average Rating based on
15
reviews
4.800000
0
5
Verified Buyer

Reviewed by Chris from California on Tuesday, March 3, 2015

Love these shoes for bouldering: Soft and narrow heel. I like the narrow rand for the heel too which allows me to heel small holds

Reviewed by Eugenel from Sierras on Tuesday, July 1, 2014

They stick to everything. Aggressive downward toe gives the right edge for almost any chip. Doesn't expand. Been using them for about two months and they still hurt like new. Buying your street size is a very aggressive fit.

Reviewed by S_Muppet from North Carolina on Monday, March 3, 2014

It's been over 15 year since my last pair of 5.10 climbing shoes. I tried these because the price was just too good, and I've been pleasantly surprised at their fit and performance. I have a wide toe box but pretty narrow everywhere else, and they fit comfortably without any pain on my pinkie toe. They are downturned, the heel fits me perfectly, and 5.10 rubber is as good as advertised. My foot size measures 8.5, and I wear a size 8.5 in 5.10's Camp 4 approach shoe, and a size 9 in the Blackwing fits perfectly. I wouldn't want to go any smaller, but I could probably do a 9.5 for even more comfort, although size 9 is my first choice.

Reviewed by ramzi from Oregon on Friday, November 8, 2013

i wear 11.5 in evolve, 11 in madrock, and i got 11.5 of these and they were too small. returned them, got a pair of 12s. we'll see. can't say too much about them yet. rubber seems pretty sticky, also seems like it would wear out quick because of how sticky.

Reviewed by Peter from Maine on Friday, May 17, 2013

I just bought a second pair of these shoes to keep in storage. I have tried many steep terrain shoes and these are among the best. The sizing is odd ( I went a half size over my street size and I wear my shoes tight) but once I got the correct shoe, they fit very well. There is a snug toe box that is not as wide as the Jet 7 but still ample. The heel is snug with barely any dead space anywhere. The shoe has a pretty aggressive downturn and grabs nicely on the steeps. The rubber is sticky and places the edge in perfect alignment with my inside and outside edges of my foot. they are a bit stiff initially..not clunky like the Edelrid Raven..but certainly not super soft sensitive like the 5.10 project.
All in all, I would put this shoe high on my list of steep terrain shoes. I loved the Jet 7 (no longer made) and I really like the fit of the Evolv Predator G2 (a a bit deeper heel and a bit more aggressive) but the blackwing seems to have stickier rubber and a bit more sensitivity.
Nice easy entry with secure velcro in well positioned spots to lock you in nicely.

Reviewed by Dunk from PA on Wednesday, May 8, 2013

Aggressive, but I am forced to wear my normal shoe size. No downsizing on this one.

Reviewed by Sport climber from Texas on Wednesday, May 1, 2013

Have worn these shoes for 2 weeks now, and while initially they were ridiculously tight, they broke in nicely and I can wear them up to 20 minutes without taking them off.

Quick note: these shoes are sized ridiculously small, I ordered them a half size above my shoe size and 1.5 sizes above what I had in the 5.10 spires. This was too small, so I was forced to exchange for a whole size above my street shoe size and it was still a pretty tight fit but feel great now.

An absolute steal for the price!

Reviewed by alwaystimetoclimb from Oregon on Sunday, April 21, 2013

Great edging and hooking shoe. Unlike most aggressively downturned shoes, it is comfortable enough to wear on reasonably long sport routes. Definitely size up at least a full size above your street shoe. For reference, I wear a size 9.5 steet shoe, 9 in anasazis, and a tight 10.5 in the Blackwings.

Reviewed by Walshie from Flagstaff on Wednesday, April 10, 2013

The description does not lie, aggressive down turned they are (not quite as vicious as the Dragon). Sized same as street shoe and plenty snug. Great value for an advanced climber or someone looking to feel the difference an aggressive shoe can make on steep overhanging routes.

Reviewed by born-and-raised by joe from Utah on Tuesday, April 9, 2013

Fit perfectly, best price I could find. The exact shoe I've been looking for.