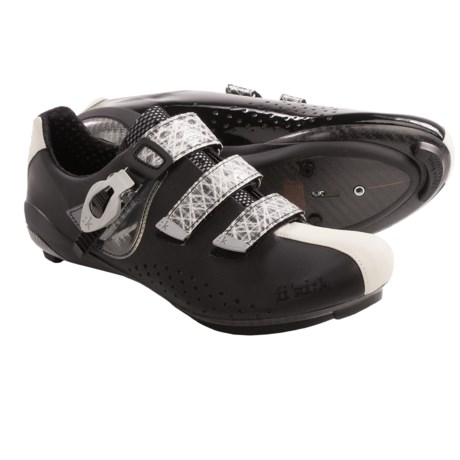 Fizik Women's R3 Donna Road Shoe
Reviewed by I've tested this product over the last 8 months in Colorado. From the previous version to the latest version I have found significant difference in the fit of the shoe. While previous versions stretched fairly quickly this current pair has maintained its original shape. The sole of the shoe has also been a highlight from past versions. I've found less flex in the sole and this is something I prefer. The stiffer-sole is again another piece of the current R3 Donna that continues to maintain itself over months of riding through a variety of conditions. The uppers of the shoe are made from Kangaroo leather and a Nylon mesh. The leather is flexible and the mesh allows for air to flow through keeping your feet cool in the dry weather in Colorado. The straps are made to fight stretching and done so by using sailcloth. The two bottom straps are secured with Velcro. The top strap is made with an aluminum ratchet closure. My favorite piece of the shoe is the top strap and the adjustability range it entails. You can tighten the ratchet for a comfortable fit you can shorten the strap to fit your specific needs. To do so; thread the strap through the loop that doubles back on itself and secure the strap in place with the Velcro. Bottom line Fizik has made significant improvements to focus on the needs of a women cyclist to make a comfortable lasting shoe. I would recommend this shoe for a woman that is looking for a little more performance. from Colorado on Sunday, November 9, 2014
I've tested this product over the last 8 months in Colorado.
From the previous version to the latest version I have found significant difference in the fit of the shoe. While previous versions stretched fairly quickly this current pair has maintained its original shape.
The sole of the shoe has also been a highlight from past versions. I've found less flex in the sole and this is something I prefer. The stiffer-sole is again another piece of the current R3 Donna that continues to maintain itself over months of riding through a variety of conditions.
The uppers of the shoe are made from Kangaroo leather and a Nylon mesh. The leather is flexible and the mesh allows for air to flow through keeping your feet cool in the dry weather in Colorado.
The straps are made to fight stretching and done so by using sailcloth. The two bottom straps are secured with Velcro. The top strap is made with an aluminum ratchet closure. My favorite piece of the shoe is the top strap and the adjustability range it entails. You can tighten the ratchet for a comfortable fit you can shorten the strap to fit your specific needs. To do so; thread the strap through the loop that doubles back on itself and secure the strap in place with the Velcro.
Bottom line Fizik has made significant improvements to focus on the needs of a women cyclist to make a comfortable lasting shoe.
I would recommend this shoe for a woman that is looking for a little more performance.

Most helpful positive reviews
Most helpful negative reviews
Similar items and more information in the following areas: