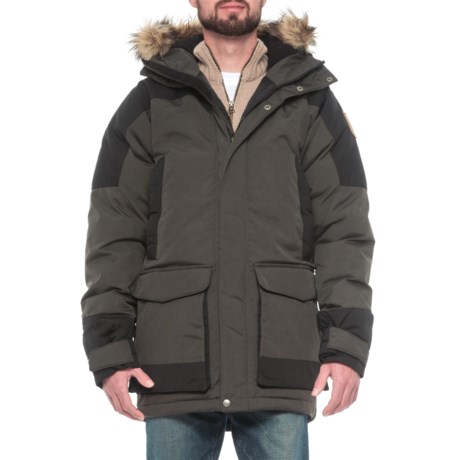 Very Warm and High Quality
Verified Buyer
Reviewed by JohnP from Maryland on Thursday, January 18, 2018
Fjallraven is getting a lot of attention with many good reviews which are merited. I do want to mention sizing since this seems to be a stumbling block for some. I'm 5'11" 170 pounds. In most garments I'm a medium. I have two Canada Goose coats, a Citadel and Langford parka. Those are in their slimline collection so in those I wear a large. In Marmots, Eddie Bauer, LL Bean, and almost everything else, a medium. If you go to the Fjallraven site and select a coat's info page there is a "what's my size" button. This will ask you a few questions, height, weight, age, body shape, etc. It will pretty much nail the proper size for you. It states the size that most people matching your size purchased and did not return. It was spot on for me recommending a medium.

I've seen recommendations to size down. If I had sized down to a small it would have been too snug, too short, and the sleeve length would not have been as useful and probably felt weird. In fact I also ordered one of these in large from Sierra just to see if that might feel even more comfortable. The Kyl has both hem and waist/back drawstrings so the fit is adjustable. But the large would really only be appropriate for me if I planned to or needed to add additional layers underneath. That would rarely, if ever, be needed with this coat. The medium is really the perfect fit for me, although I do like the additional length of the large. But it will be going back. And I do not recommend sizing down. Just check their site and use that "what's my size" option. That should get you just what you need. If it's windy and bitter cold that hood will not seem big. It only seems big because it's stuffed with down and lined with fleece. I'm always wearing a fleece hat/beanie, so the hood sits just right and is much appreciated in raw conditions.

I will also comment on the zipper, the only significant annoyance I have. It's not because it's left handed. I have my Canadian coats so I'm used to that. You just figure out you have to use your left hand to zip up and especially to unzip or you will be struggling to get the coat off. However the Kyl has the right side portion partially obstructed by the material. You have to make certain to clear and fold away the material before trying to insert it into the other side. It frequently requires a couple tries.
Most helpful negative reviews
Similar items and more information in the following areas: