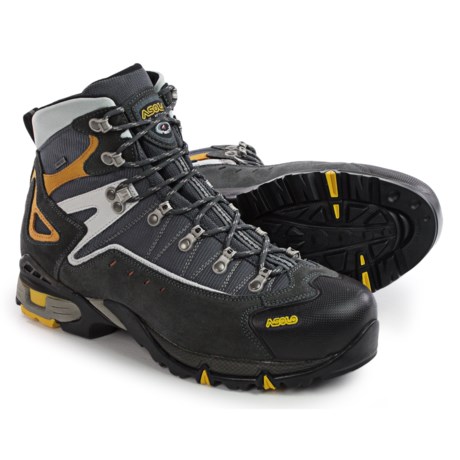 I have ordered several pair of Asolo hiking boots from STP. They are all much too narrow for my feet. I ordered the Asolo boots in the wide width option. I finally went to REI and purchased a pair of Keen Gor-Tex lined boots are extremely comfortable for my 11D feet. I do have several friends who are avid hikers and mountain climbers who swear by Asolo boots. Based upon my experiences, I would not order a pair of hiking boots on the Internet again. I will always go to REI in the future, so that I can try on boots in the store before making a purchase decision. REI also has a very fair return policy, if you ever have problems with you hiking boots. Good luck.


I have wide feet so I order wide. Asolo are my favorite brand for hiking boot. I have jumped ship to other brands and found myself going back to Asolo. I found the boot to be true to size. Once I order M and it was to me regular. I wear a 12 W and I tried 11.5 M and the shoe was wearable but uncomfortable. I hope this can help. I wear Asolo's and wear out a pear every year hiking in Glacier National Park.

M is the regular with. I wear a size 10. And the pair I have fits true to size.

Answer to your questions!! STP not having 10.5 is probably due to they probably sold out of that size. As far as M width it normal as all Asolo boots!!

Size 10.5 probably was sold out. I got the W width and it seem like it is like my other W width Asolo boots, so I am sure the M will be the same.

M is regular medium width. Due to the nature of the closeout business, we often receive items in limited quantities. Therefore, popular sizes and colors can sell out quickly. Occasionally we are able to reorder a product, but closeout items are typically unable to be reordered. We suggest signing up for the My Updates as the best way to monitor incoming products. You will receive email notifications of our newest stock items.

Check by clicking on a different color, it will show the different sizes still in stock or sold out. Choose m or w for width, if you have narrow feet and regular socks the m should fit, w for the USA size, normal to wide foot and adjust the sock thickness.

Probably because it's the most popular and it sold out, if STP had any 10.5s at all. I bought 11 Wides for my 10.5 feet going on reviews, and they were a size too big. Regular width Asolos would be super narrow, judging on the width of the Wides, which were still a bit pointed in the toe.

I have the W and they are indeed wide. No idea about the regular width.