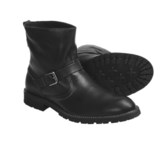 Closeouts. An excellently appointed casual boot with a rubber lug sole, Florsheim's Gadsden boots dress up with khakis, get down with jeans, and look terrific on any expedition -- into the city or out in the country.
Average Rating based on
16
reviews
3.937500
0
5
Reviewed by DB from NC on Wednesday, September 18, 2013

These are nice boots, but like some others have reported, they run big. Order at least a half size smaller than what you normally wear.

Reviewed by Shivering timbers from Michigan on Thursday, August 1, 2013

These are great looking boots at a great price. Putting them on is a real challenge. Lacking a zipper, sliding your foot into the boot is very difficult and by the time they are on the heel of you sock is up around your ankle. It was a real struggle for me to get my foot into the boot. Once my foot finally found its way into the boot, there was too much room - the boot felt big. That is the essence of these boots; very try difficult to get on, and then once they are on they are too big. It's the first footwear I've ever had that is both too small and too big. Maybe more experienced boot people know how to deal with the difficulty of getting your foot into these things, but is was too difficult for me. I was literally afraid I would tear off the loop at the back of the boot designed to give you leverage needed to get the boot on. A great look though if you can find the right size and figure out how to get your foot into the boot without working up a sweat.

Reviewed by DaveM from Australia on Thursday, June 6, 2013

Quality leather and workmanship that will look better with age....and they look good already!

Reviewed by Frank from Michigan on Thursday, May 16, 2013

Ordered these boots in my usual, size 10. Fit great & no 'break in' period.
Boots are now my everyday boots due to comfort and ease of getting
on & off. Great boots, great price!

Reviewed by From7400ft from Denver, Colorado on Wednesday, April 17, 2013

These boots are great. I have been a Florsheim fan for many years (I worked in a shoe repair shop as a kid in high school - every pair of Florsheims we worked on were very well made, always impressed by the workmanship, and at this point, these are no exception). Needed a boot that I could wear with anything, and these fit the bill.

Comfortable from the moment I put them on, and have gotten even better over the past week (including a trip with air travel - had to take them off for an airport withouth TSA PreCheck - and a fair amount of walking). One reviewer mentioned that these were hard to get on and, initially, they will be. The unfinished trunk of the boot (which is normal) will wear as appropriate, and will get easier with time. Also, there was some mention that the strap was "improved" to facilitate a tighter fit around the ankle... that will undoubtedly make it more difficult to put on...

The only drawback, which qualifies the "nearly" is that the arch seems to be smaller than average and a little more abrupt. Not uncomfortable, but I noticed it. Easily corrected with a very light insole, but, again, probably not needed, doubt I'll put one in.

I like these enough at this price point to order a second pair because I fear I won't be able to find them again. They do run a little large, but I ordered my typical 10, and they fit fine.

Reviewed by Ripabo from Austin, TX on Monday, March 25, 2013

Great fit, finish and form. Absolutely no negatives to mention. Great price-great product!

Verified Buyer

Reviewed by Showboat from Washington, D.C. on Monday, February 11, 2013

I wear the boots with jeans.

Verified Buyer

Reviewed by Also Aldo from Bainbridge Island, WA on Friday, February 8, 2013

This is an exceptionally good looking boot. However, it is also exceptionally hard to get into. I am hopeful that over the coming months the boot shaft will become more supple.

Also, I had to put another hole in the strap to make the boot tight enough to keep my heel in place once I got them on.

Verified Buyer

Reviewed by Dude from Carbondale, CO on Thursday, January 10, 2013

Ordered 10 1/2 and my feet were swimming. Returned for 10, fit better but they did not feel as if the were matched, one felt bigger than the other. Wore them one time and the heel feel off. Returned .

Verified Buyer

Reviewed by grasta from Dearborn, MI on Friday, December 21, 2012

Nice boots but I suggest buying a size smaller that you'd normally wear. I returned these and ordered a smaller pair.