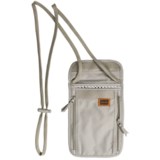 Closeouts. The soft ripstop nylon and multiple pockets make Frontier's Deluxe Neck Stash travel wallet perfect for carrying your travel essentials with discreet, hands-free ease.
Average Rating based on
31
reviews
4.483870
0
5
Verified Buyer

Reviewed by Tuxedopup from PNW on Tuesday, October 6, 2015

This works great for carrying keys, phone, etc, while walking the dog or running errands locally. The neck strap is like a cotton shoelace that is adjustable. It's a great size and hardly noticeable around my neck, and is a nice neutral color. Perfect solution for those times when I'm without pockets and don't want to carry a handbag. Very pleased.

Verified Buyer

Reviewed by Ken from Live on the Atlantic on Thursday, September 17, 2015

Got this for a replacement item my wife uses when flying, will try it out in Nov. but looks like a quality item.

Verified Buyer

Reviewed by Jojo from Oregon on Wednesday, September 2, 2015

This has a VERY long neck strap but it is easily adjustable. You can't be too careful when traveling out of the country.

Verified Buyer

Reviewed by Tempra from Chico on Saturday, August 22, 2015

I bought this specifically for holding my iPhone 6+. Works great, and also fits a few other essentials. Great for traveling, hiking, biking, any time you need a low profile wallet/purse.

Verified Buyer

Reviewed by touropark from Rhode Island on Tuesday, August 18, 2015

The multiple pockets are wonderful for organizing passport/cash, etc - love it!

Verified Buyer

Reviewed by Anonymous from WI on Thursday, April 23, 2015

This is the best neck stash I have found. 2 pockets under the flap, and two zippered pockets. Extremely light weight.

Verified Buyer

Reviewed by Lost in the Hills from texas on Monday, April 20, 2015

Ultrathin, lightweight, and I like the grey colour.

What's not to like, especially when it's big enough to stash my keys, card holder and cell phone (Galaxy - IN a Seattle Sports E-Merse Original XL Dry Case http://www.sierratradingpost.com/seattle-sports-e-merse-original-xl-dry-case~p~8252c/) .

Everything is in one place and I can just grab it and go. I like the 4 pockets and seem to find a use for most of them. Closures are in just the right place.

I like that it's also small enough to stash in my shoulder bag or backpack, so I still have everything in one place.

I'm thinking of tie-dying it....hmmmm.



Reviewed by Gimpy Hiker Girl from MN on Sunday, July 20, 2014

I was excited to get this, wearing it like a tiny purse with a neck strap. It does serve its purpose. HOWEVER, beware. It's cheaply made with cheap materials. I will admit I'm hard on things. But I've never had the following problems. for example, with my Eagle Creek or Timbuk2 gear. This item failed within the first two weeks I had it in two areas. 1) One end of the neck strap pulled out at its attachment point, rendering the neck strap useless unless I sew it back on with a ton of hand or machine stitching. Which seems pretty pointless when you know that 2) one zipper-pull head separated from the zipper itself, leaving no way to open that section other than pulling on the fabric to break apart the zipper teeth and ruin it.

Reviewed by Kaisers from Cheyenne WY on Thursday, April 10, 2014

Wonderfull and lightweight. Especially love the four different pockets. My cell phone(Galaxy Note II) evens fits.

Reviewed by Anonymous from Pasadena on Monday, January 20, 2014

to put keys, phone, drivers license, and parking ticket.

Reviewed by cjsmiles from NM on Monday, November 25, 2013

I like the size which is just a little bigger than my old one...fits just a little more so I can go Purse-less anywhere!

Reviewed by Sajenn from St. Louis, MO on Tuesday, November 19, 2013

Good. Could be slightly wider, but good overall.

Reviewed by NordWoman from Beautiful West Michigan on Wednesday, November 13, 2013

light weight, reasonable construction. I will purchase RFID envelopes to use with it.

Reviewed by New Englander Outsider from Connecticut on Thursday, October 31, 2013

Just got back from a 2 week vacation in China and this stash wallet was perfect! It is too big to comfortably fit under a shirt but then who wants to expose their stomach to get at their money or passport anyways. I slung it over one shoulder and under the other and usually under a jacket. Fit my passport, wallet and cellphone nicely. Much nicer than a sweaty hip belt.

Reviewed by Foorballmamaw from West Virginia on Monday, October 14, 2013

This wallet is exactly what I needed for a trip out of the country. The fact that it is not leather is a plus, as the leather is hot and sweats you badly. Lots of handy little storage areas.

Reviewed by Travelmaster Greg from Colorado Mts on Wednesday, October 2, 2013

Like the feel of the material especially next to skin. I like the extra pockets that don't add to bulk.

Reviewed by Lesa from Pittsburgh, PA on Tuesday, October 1, 2013

Used this around the neck wallet for touring England and Ireland. Held my passport, ID and money securely. September temperatures were warm, almost 70 degrees and with lots of walking, it was hot and sweaty. In cooler temperatures it would be fine. Held up well.

Silk wallets cost a lot more and would be more comfortable. May be worth it.

Reviewed by Banjo from West on Thursday, September 26, 2013

This is way better than the plastic bag I was carrying in my purse for epipens. Fits 2 epipens with a little room to spare. Has two nice zipper pockets too for smaller items. Well constructed and good quality and sleek. Now when I go skiing I don't have to worry about the epis getting too cold and can wear them around my neck and under a jacket. I am back to order more.

Reviewed by annie m from SC on Tuesday, September 24, 2013

I bought this for my husband who wears a CHUMS neck wallet and I am returning it because he thought it was a little large.

Reviewed by Vermonter from Vermont on Tuesday, September 24, 2013

I needed something that would carry my passport, money, a credit card, and my boarding pass. Finally found something that had zippers for security. Haven't taken this on a trip yet but sure it will work well in the airport and also can put in my beach bag.


Reviewed by Tom from NC on Tuesday, September 17, 2013

Just came back from a trip to Austria. Fit my passport, extra cash and cards and travel tickets with room to spare. This wallet is soft, light and comfortable to carry. Especially like the 2 side zip pockets. This was a replacement for my old Eagle Creek Neck Stash.

Reviewed by Lisa in the Desert from Arizona on Wednesday, August 14, 2013

I originally bought this dandy "neck wallet" as a little birthday present for a friend -- then was so impressed with it, I just ordered another one for myself. It's lightweight, very well-made, fairly small, but large enough to hold a smart phone (in its hard jacket) securely + has two slim pockets outside. And its even nice-looking! The picture doesn't do it justice. Also, the price is a gonga deal, especially with the Deal Flyer coupon! Thank you!!

Reviewed by Dotty from Tennessee on Sunday, July 28, 2013

This was so handy for overseas travel. It has 2 compartments on the top for passports and credit cards, phone etc. Also has 2 separate side zip pockets for hotel keys etc. I used it more than I thought I would and was very pleased with this purchase.

Reviewed by Alexandra from Portland, OR on Monday, June 10, 2013

Good money and passport holder while traveling but I wouldn't use it for long trip--good value for price.

Reviewed by sfreeman from Atlanta on Monday, June 3, 2013

I carried this recently in conjunction with a backpack -- so nice not to have to dig my phone/cash/chapstick out of my pack, and it doesn't feel like you're carrying a purse -- extremely lightweight. The zippers on either side open to separate pockets (back-to-back), and the third zip at the top drops into a third compartment. Lot's of functionality for such a small, lightweight "wallet". Love it.

Reviewed by Anonymous from Florida on Wednesday, May 15, 2013

Well-made; good little travel essential especially for the price.

Reviewed by ANDINE KUARUA from Seattle, WA on Friday, May 3, 2013

Wallet is well made and has several compartments to keep your items separate. Well made and compact.

Reviewed by h12 from NY on Monday, April 22, 2013

This is very useful. It is simply made. The neck string is long for me, but I will adjust it.

Reviewed by Jim D. from N.C. on Monday, April 1, 2013

Good product, well made.

Reviewed by Indiana Gal from Indiana on Saturday, March 23, 2013

Great deal when purchased on sale (about $6.50). Purchased for multiple family members for upcoming Alaskan cruise, so everyone can keep track of passports, cash and ship room keycards. Basic design, seems reasonably well-built.