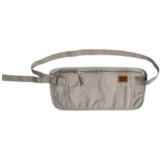 Closeouts. Conceal your valuables next time you travel with Frontier's Waist Stash travel wallet. The large zip compartment securely holds cash, identification and travel documents, and the ultra-thin, lightweight and discreet design keeps them away from prying eyes.
Average Rating based on
13
reviews
3.923076
0
5
Verified Buyer

Reviewed by Bargain Gal from CT on Monday, July 27, 2015

but it looks like it'll do the job.

Verified Buyer

Reviewed by Todd from California on Sunday, March 29, 2015

Not sure what to say about it, it's pretty much what I expected in a travel pouch. Well, a little better. For the price I paid, I thought it might be really cheaply made and fragile, but it appears well constructed. There is some absorbent material on the back, which in my opinion just allows it to become waterlogged when I sweat, but perhaps it'll turn out to be a good feature. There is only one pocket, would be nice to have more than one.

Reviewed by Family Shopper from Mountains, NC on Sunday, January 25, 2015

Living alone and having some problem with dizziness I needed something to carry my new smart phone in around the house as I don't have pockets in everything and it's bigger than my old flip phone. I'ts good for walking the dog and also use it as my emergency, "I've fallen and can't get up!" in stead of paying for one of those systems that hang around your neck. It works perfectly. I haven't had an emergency but I feel good with it on me. My children appreciate the security. I like the light weight and the elastic band. I find the fabric to be durable but don't know how lond the elastic belt will hold up. So far, so good, three or four months.

Verified Buyer

Reviewed by redeyehawk from New Hampshire on Friday, January 23, 2015

Gave one at Christmas and got one for myself...just traveled out of state by auto and stashed the loot in this very svelte nylon zip wallet, strapped it around my mid-section and felt secure that I left nothing in the vehicle of value to worry about. The perfect solution to carrying cash/cards in particular.

Verified Buyer

Reviewed by CG from South Fl on Friday, January 2, 2015

This was purchased for traveling in SE Asia where it will be hot. This is light weight easy to rol up into almost nothing.l

Verified Buyer

Reviewed by crzypj from Stillwater on Monday, December 29, 2014

This will be a great way to secure cash. It is risky to carry everything in my travel bag while out and about and this should give me a little more security.

Verified Buyer

Reviewed by grammie in nh from nh on Sunday, July 27, 2014

Pretty thin and the 'belt' is elastic so I don't know how secure it will feel. Won't hold much but will work to carry a little cash or credit card. I think if you put much else in it the elastic would stretch as you wore it.

Verified Buyer

Reviewed by Jenny from the block from Raleigh on Thursday, June 26, 2014

I think this is almost identical to the waist wallet my husband used on our first trip to Europe 25 years ago. My son just took his first trip and used this as well. Seemed to be a better option than the neck wallet. Nicely made and can't beat the price.

Reviewed by careful shopper from Iowa on Tuesday, September 10, 2013

I wanted a small pouch to go around my waist when hiking. This one is OK, not the best design, a little flimsy, but light-weight--adequate for the price.

Reviewed by H Munca from Texas on Monday, August 26, 2013

This product held money, cards and passports. the belt is flimsy but comfortable. Meant to be worn under your clothes.