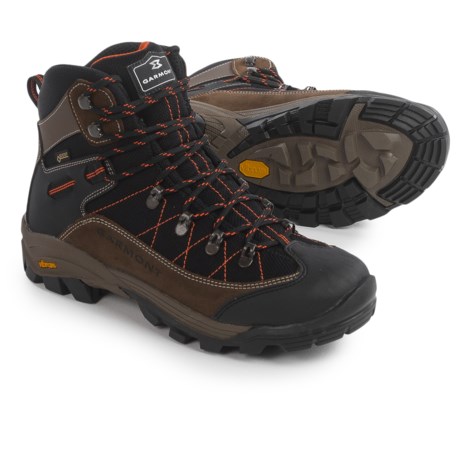 I typically were a wide size, this medium barely fits that requirement. I definitely is short on size. i would now recommend a full size larger rather than i/2 size.

I have a narrow -Low volume feet: These boots felt comfortable afer less than two hours of wearing them . A short break-in period. They have a lace system that can be used to adjust the lower part leaving the ankle with more flexibility when needed during approach hikes.. These are not rigid climbing boot, rather they are a mix of trekking and mid montaineering boot. I have now taken them to near 5000 meters on mix terrain (not technical) and they perform superb.

I have worn Asolo's and always ordered in a WIDE. The Garmont fits much better on my foot which runs on the medium to wide side. If you get the Garment order a whole size larger. In my opinion the Garments are every bit as nice and for me more comfortable than the Asolos. The laces on the Garments made a big difference, I can lock my heel in place so my foot doesn't slide forward on descents...no toe jam! Also, I find the weight of the Garmonts not overly heavy for the support you get. I backpack with my kids and typically carry a heavy load, these boots work well. I like the width in the full size up, with my " wide" foot they work great. The price at STP makes them a no brainer.