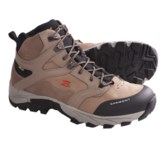 Closeouts. A balanced combination of support, breathability and Gore-Tex® waterproof protection make Garmont Flash hiking boots stable enough for hauling big loads and nimble enough for day hikes in technical terrain.
Average Rating based on
22
reviews
4.045454
0
5
Reviewed by NWHiker from Seattle on Thursday, February 27, 2014

I have only worn these a couple of times on short hikes, but so far things have been going pretty good. I ordered a half-size up from normal and they fit just right.

One weird thing is that there was a strange hard spot in the stitching, on the tongue. These boots were almost unwearable at first. I had to take the boots off and kind of smash the spot a little to work it out. It seems that after a little work these boots are starting to break-in just fine, but it has taken a few hikes. I certainly wouldn't recommend wearing these on a long hike, right out of the box though.

I would say it is worth the hassle for the price, the boots seem to be pretty high-quality otherwise.

Reviewed by MichMike from Michigan on Friday, February 7, 2014

Yeah. It's on there. Right now (6:59AM, Friday, 7 February 2014), it's the second review shown, just below the review by "Sarah from Boston." But STP wants me to do another review--their email says "We hope you are pleased with your new purchase." By reading my first review, it's pretty easy to understand why I returned the boots, right? Then why is it that the "reason" given on the invoice for the refund to me is "DON'T LIKE FABRIC?" What's the problem with the fabric? I don't know. I thought that it was fine. Apparently, someone at STP has a problem with the boots. You would think that they would want to talk them up to sell them rather than shoot them down! But who knows. Since I sent the boots back, I can't provide an update on how the boots are doing for me, except, I can say that I don't have the pain problem with my shins anymore--so in that regard, they're OK (but they don't provide good traction in the snow, either--since I don't have them to wear out in our Michigan winter). So if you want to waste 16 or 17 bucks for shipping back and forth, and have nothing to show for it other than hurting shins, you can also see how these boots will do for you.

Reviewed by SPM from Boston, MA on Monday, February 3, 2014

Bought these for my dh and he loves them! Haven't tried them hiking yet (bought too late in the fall) but he wore them until the snow started to fall, and even after. Loves the fit and the traction. Fits true to size for a 13 from what he's told me. Great buy, thanks!

Reviewed by MichMike from Michigan on Thursday, January 30, 2014

These appear to be good, well-constructed boots. They fit true -to-size and fit my narrow feet well. Interior padding is minimal so thicker socks would be preferred with these boots. Unfortunately for me, I was not able to evaluate them in the real world. As soon as I put them on, laced them up and took a few steps on a carpeted floor, I experienced pain in both lower shins from the hard, sharp corners at the fronts of the collars of both boots. Standing still, the boots were comfortable, but walking was not. Although the price was great, it's not worth the pain, so I returned them.

Reviewed by novanation from PA on Wednesday, January 22, 2014

I did not like this version of the shoe. Too many changes and the comfort was gone. So many companies keep messing up a perfectly good product.

Reviewed by Hikemaster 2000 from Boulder County, Colorado on Monday, January 20, 2014

Light-weight, very comfortable, good looking boots. Exactly what I was looking for. Surprisingly warm, had no troubles in the snow with some Smartwools, in 10-15 degree weather. Also seem comfy in 60-70 degree weather, definitely seem to breath well for the solid pseudo leather-suede material. Vibram soles live up to their reputation, really good traction on all kinds of terrain, except solid ice. I normally wear a 10 but ordered a 10.5 based on another review. I think that was the right choice, they fit great with just a little extra toe room for thick wool socks and Sof Sol insoles (highly recommended). Great deal with extra STP discount. Only problem is they're out of 10.5's so I can't order a second pair.

Reviewed by Scott from Nh on Thursday, January 16, 2014

Wicked nice boot for the price. Very hardy boot for hiking and love the appearance. Thought the ankle could have a bit more support and the tongue of the boot has been digging into top of my foot but I am hoping that goes away after break in or might need to return. Other than that I love them but still need to put them to the test with some spring hiking.

Reviewed by Chuckj from Sierra Nevadas on Tuesday, December 24, 2013

These boots are exactly what I was looking for. Quality, with good soles, and they are light enough for everyday use. I would probably want a more rigid boot if I were doing extended long hikes. This comment is not about the boots, but about Sierra Trading Post---they are great! I hope someday I can get our little micro company to be as efficient. Thank you.

Reviewed by Emmo from China on Friday, December 6, 2013

These are great hiking shoes~

Reviewed by Joe from Illinois on Saturday, November 30, 2013

Lighter weight upper than I expected so I returned them.