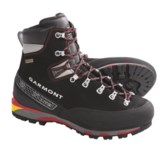 Closeouts. Designed for high altitude adventures, Garmont's Pinnacle mountaineering boots boast the protection of a Gore-Tex® waterproof breathable membrane, the stability of a heel lock system and a tri-density midsole, plus a FrameFlex fiberglass insole for crampon rigidity.
Average Rating based on
4
reviews
4.000000
0
5
Reviewed by L from Seattle, WA. on Sunday, October 13, 2013

First off I must say that I was a little skeptical about these boots due to the narrow stance and the weight. These boots conform to your foot like no other boot I have worn! The narrow stance was not an issue whatsoever and my crampons fit them perfectly! My fist climb with the Garmont boots was on rough terrain. A lot of rocks, boulders and shear granite slabs as we approached the summit. The Vibram sole's stuck to the terrain like glue on the ascent and descent! After a long day of hiking/climbing, the boots do weigh a little heavy but will compensate when you are climbing in snow. You will need the added weight for kick stepping. In the snow is where the boots will be in there element! Being from the Great NW we get a lot of rain. I decided to really test these boots out in the rainy weather. It poured all day, hiked through rivers, across a waterfall and even ascended on several portions of the trail where ankle deep water was rushing down! After 9-10 hours, my feet stayed dry and never got cold! I was going to buy another pair just have for when I wear this pair out but they sold out in my size! Although these are mountaineering boots, they work great for hiking! I just leave the bottom of the boot loose and snug at the top for the heal lock to work properly. Again, a little heavy for hiking boots but with these boots, if you don't mind a little weight then it is one less thing to worry about in the mountains! Great boot! Looking forward to many more adventures with Garmont on my feet! :)

Reviewed by Andrew David from Utah on Friday, September 6, 2013

Having hiked in these now, and tested my crampons, I can say I still love the boot- but in 85+ degrees, you'll have 150F feet! I expected that and have confirmed it. These are all one piece on top with no seams to let in potential leaks, and they breathe pretty well considering their thickness, but just get another set of boots for the heat of summer. They fit Grivel crampons great. You can hike in these, but longer approaches, it would be tiring. These are heavy. I need protection for my feet which have had breaks and sprains and these sure provide it. Add an Odor Eater or Air Foam from your local drug store under the included insole. Adds a few dollars to your outlay, and squeezes your foot in the box a hair, but without it, you might as well be standing on concrete.

Reviewed by Andrew David from Utah on Tuesday, September 3, 2013

I fell instantly in love with these, and am writing a premature review as there is only one other review right now. (I can't rate them for durability as I just got them.) This boot is a great fit right out of the box, true to size, except probably for wider feet. Heel fit is tight, and the whole foot is wrapped in a cocoon of suede and leather. They are soft and comfortable enough to walk in when the laces are left loose above the ankle, but its like having your feet in casts. I mean that as a compliment- after a broken ankle and a sprained toe that was recurring issues- I really do! Rear welt for crampons, but no front welt, sadly. I have Grivel crampons and they fit well enough, though not perfect and you may need to shop around for the perfect match- but if you save hundreds on boots, you can afford new crampons, maybe. Very good rubber rand, especially near the heel. You could grate cheese on this heel rand. These add 2 inches to my height and the sole is so thick and strong, I think a rhino charging you full speed could not spear its way through to your foot. Not going to be the best boot for a 12 mile approach hike, but Garmont's website used the word "hiking" very early and often in the product description- a rarity for mountaineering boots- and that shows the company is confident you can walk in these. Too thick for summer hikes and maybe not insulated or stiff enough for vertical ice or long frigid days, but these are my new winter and spring boots. They can cover most of your adventures, if you aren't in Northern Canada. Don't waste a shoe this good on summer scree. I think the sole lugs are so long that they could prove a tripping hazard in talus fields anyway. They look amazing. I thought they were bland in the picture, but the price was right. Very stylish though.

Reviewed by The Flying Dutchman from Rochester, NY on Friday, June 28, 2013

These boot are a great fit for my feet, size 9 is right on. They do however have one big problem, the heel is too narrow for my Black Diamond semi automatic crampons. They slide "all the way forward" instead of "grabbing" the heel. This came as a big surprise. I currently have a pair of Asolo's and the heel at tread level is almost a full half inch wider. Garmont Pinnacle heel width is 63 mm or 2-7/16 inches. Some of the description at other boots read fit or compatible width most, but not this one. So buyer beware. I unfortunately will have to return these boots.