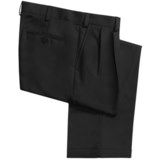 Closeouts. Tailored from a luxe microfiber that's virtually wrinkle-free, Geoffrey Been's Sorbtek pants rise to any occasion with their full dress make, pleated front, and discreetly ingenious bands of elastic at the waist to ease the fit.
Average Rating based on
22
reviews
4.363636
0
5
Verified Buyer

Reviewed by johnajda from San Mateo, CA on Thursday, April 9, 2015

This is my 4th purchase of these absolutely wonderful long pants. You can't go wrong with these pants! These are the only long pants I wear now, year 'round, because they are super comfortable, look fantastic, have a stretching waist band, and never need ironing. These pants are probably worth $70 or more per pair (to me), because of all of these value-added reasons. In colder weather, I just wear another layer (thin layer microfiber long underwear) underneath these pants, so I never need to wear thick corduroy or wool pants in cold weather. The pants are built with an absolutely fantastic, practical, versatile, microfiber fabric which is extremely comfortable and the pants look just great, as well. The stretching waist band is extremely helpful, as well, for those typically "fat" times of the year (e.g., Thanksgiving, Christmas holidays) when you just need a bit more waist room.

Verified Buyer

Reviewed by Travisheals from Austin TX on Sunday, November 30, 2014

Nice pants. Love the wrinkle resistant feature. They truly are. Just as nice as any more expensive pants I have encountered.

Verified Buyer

Reviewed by Jo from USA on Thursday, November 27, 2014

The other color pants are nice, but the description for the Taupe color version is inaccurate. The Taupe color version of these pants are a different style than the other colors. The material and feel are different. The color changes from a brown to grey in artificial light.

Verified Buyer

Reviewed by irv from new york city on Sunday, November 23, 2014

the size shown on the tags for these pants was wrong. when I fitted them on the looked bad and did not fit so I have not worn them. If I had not taken the tags off and thrown them away I would return them.

Verified Buyer

Reviewed by Clete100 from Alabama on Tuesday, November 11, 2014

Perfect for packing. Best pants I have bought in years!

Verified Buyer

Reviewed by C-Bear from oregon on Friday, October 24, 2014

I was really excited about these pants. The quality and the look of them, especially for the price was excellent. However, the sizing was not so good. I wear a 38" waist and 32" length and I would say the 38 waist would probably fit a 40 waist easily, especially with the elastic waist band and the 32" length was closer to a 34". The pleated front and the cuffs made this a beautiful pair of pants. Sadly I had to return them.

Verified Buyer

Reviewed by Granjan from Coastal NC on Tuesday, September 23, 2014

Very nice pants, good fit, adjustable waistline, lightweight fabric, very wrinkle resistant, great for travel. Bought the brown and it's a good color, not too dark, not too light. Happy with this purchase!

Verified Buyer

Reviewed by Blaaaargh the Grumpy from Seattle on Thursday, September 4, 2014

I tend to stay away from wrinkle resistant fabrics because they don't feel as good as plain old cotton. These felt great and are better than advertised in fit and looks.

Verified Buyer

Reviewed by ed from baton rouge,la on Tuesday, August 5, 2014

nice looking--fit excellent-quality good=would recommend to others

Verified Buyer

Reviewed by WarminRichmond from Richmond, VA on Monday, June 30, 2014

I acquired these pants in anticipation of a outdoor June wedding I was to attend. They were great. Light and comfortable, and perfect for a hot, humid summer evening in Virginia! Fit was as described.

Verified Buyer

Reviewed by Fred from Philly on Wednesday, June 25, 2014

Great product for business casual dress

Verified Buyer

Reviewed by New customer from NJ on Tuesday, May 27, 2014

Amazingly great material.
A+++

Verified Buyer

Reviewed by jsnow from NC on Thursday, May 22, 2014

Classic fit. Ran true to size. Khaki color is medium tint. Navy is dark ink.

Verified Buyer

Reviewed by cin from Winston Salem on Monday, April 14, 2014

My husband is an avid golfer and is always searching for comfortable, lightweight golf pants. He was very satisfied with these. They are true to size, lightweight and the price is great.

Verified Buyer

Reviewed by John Anderson from Virginia on Friday, April 11, 2014

Fit is perfect, well made, material drapes beautifully, outstanding value. Classic silhouette is perfect to separate one from the skinny-pants fashionistas.

Reviewed by Love to Walk from Florida on Friday, April 4, 2014

I bought these for my husband and he loves them. Great fit, very soft and they look good on him. The material moves with him. Bought both Khaki and Navy Blue.

Reviewed by Walt from Colorado on Monday, March 3, 2014

Nice looking pants. perhaps a little long. I normally wear a 37 or 38 inch waist, but the 36 inch was fine with the expanding waist.

Reviewed by Illinois Shopper from IL on Thursday, February 27, 2014

Great quality. However, my husband wasn't a fan of the "silky' fabric. He likes his traditional "twill" pants better.

Reviewed by Ten10 from Alabama on Wednesday, September 4, 2013

Pleased with product.

Reviewed by Andy from New Jersey on Wednesday, August 21, 2013

I can't rate these on longevity yet, but I can on first fit. The item description mentions discreetly ingenious bands of elastic. I had no idea what that meant in practice. Now I can tell you. I am somewhere between a 38 and a 40. I ordered the 38 and was surprised to find that the elastic device, which is utterly invisible, provides precisely the amount of flexibility needed to assure a good fit around the waist. Not sure exactly how they did it, but it's a superb innovation. And the pants look sharp. If they turn out to be wrinkle-free as well, that will be a bonus.

Reviewed by djgolfcoach from Milwaukee on Tuesday, July 30, 2013

Great price and nice material.


Reviewed by Martin Van Nostran from Miami on Wednesday, June 19, 2013

Ordered two pair and liked them so much I bought two more. Very well made, they look expensive. If you get them out of the dryer right away, they are wrinkle free. Expandable waist is very nice as well.