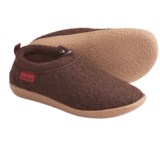 Closeouts. When it comes to staying cozy at home, you can't go wrong with Giesswein's Vent slippers. With a soft, warm and naturally breathable boiled wool upper, these house shoes know how to treat feet right!
Average Rating based on
8
reviews
5.000000
0
5
Verified Buyer

Reviewed by merelyfaith from Shenendoah on Friday, March 6, 2015

I hestitated to buy these because I could not see from the pics or descrip how to get them on and off, Well the little tab in the front is a clever little toggle. Very easy to operate with one hand, so they are easy to get on and off. The boiled wool breathes so feet don't get sweaty. I consider this purchase money well spent.




Reviewed by Please Pen from Wisconsin on Tuesday, June 24, 2014

My elderly mother loves these. The boiled wool adapts well to her arthritic feet. They fit nicely around her ankles and won't fall off like so many slippers. I feel good knowing she has a reliable and safe pair of slippers. They are great as everyday house shoes. I mean EVERY day. We couldn't be more pleased.

Reviewed by RuralGrl from San Francisco on Friday, March 7, 2014

These are fantastic! As another reviewer mentioned, the ankle cinch keeps them from falling off when you use the stairs (and I'm always running), they're very warm, and the arch support is substantial. The soles are rather thin, however. I do need more cushion underfoot, and the removable insole allows me to add a gel insert underneath. Now they're perfect! In German-sizing slippers I normally wear a 35 or 36, and I tried these in a 36 but I had to exchange for a 37. Am now wearing these in the house every day and am very happy with them.

Reviewed by Anne from Massachusetts on Thursday, February 13, 2014

My 5-star rating really reflects them with the modification I made - I changed out the supplied insoles for fuzzy insoles from the foot-care section of my local store. Obviously some like the included insole, but as I always wear slippers without socks the suede surface felt clammy underfoot; also, after wearing them for a while, I found the arch support was just a little too THERE, in places my feet would prefer no contact.

With fuzz underneath and soft wool over the tops, these are like wearing super warm & comfy socks that also have tread & work when I have to run outside for a minute.

I had some old Giesswein slippers, like these but with a knitted cuff, in size 39, my usual size. 38 was the largest in stock at STP when I bought, and it seemed my 39s had extra room, so I got them. At first I wasn't sure - I felt my big toe was going to poke through - but they did stretch just enough to fit perfectly, not too tight but with no slop so they don't move on my foot when I walk. They couldn't be better! (Well unless they came in red like my old ones.)

Reviewed by Lynn from Oregon on Thursday, December 26, 2013

I received these slippers and they're the best! They are warm without being hot, and the drawstring keeps them on snugly. I can run up and down stairs without them coming off. These are worth every penny. I'll never buy another cheap slip on slipper.

Reviewed by Outdoor girl from New Hampshire on Sunday, December 22, 2013

Warm, fit well, good arch support, nice grippy sole but not TOO grippy. I also like the pull tabs on top to adjust the fit. They look great, too!

Reviewed by STP Shopper from Ohio on Saturday, December 21, 2013

These wonderful slippers deserve five stars, but they were much too big for me. I bought size 36, supposedly size 5-5.5, but the slippers came off my heels with every step I took. (They are not available in size 35 or I would have bought them.) The inside of the shoe is plastic and gives good support. I recommend these for someone else, and can say they are substantial slippers rather than merely slip-on slippers.

Reviewed by HBH from Boston Metrowest on Sunday, June 9, 2013

I look forward to wearing these this winter. They are very sturdy and comfortable. I need to use my hand to slip the back over my heel, but once they are on they feel great! I really like that they are made in Austria, not China, like most slippers these days.