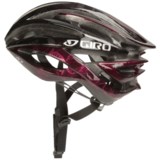 Closeouts. A premier road performer, Giro's Atmos cycling helmet outpaces the competition with easy adjustability, huge cooling vents and lightweight In-mold construction with Roll Cage reinforcement for added strength.
Average Rating based on
8
reviews
4.000000
0
5
Verified Buyer

Reviewed by LivinGood from Columbus, OH on Thursday, June 26, 2014

Keeps in the solids and lets liquids flow through. Nice snug fit with the standard chin strap adjustments and the rear of the head cradle assembly. Airy and open. If you are short on skull covering sun screen would be good. Maybe too cool for winter use.

Verified Buyer

Reviewed by K from Ohio on Wednesday, June 18, 2014

I am very pleased with the cooling vents, very minimal weight, and comfort of the Giro Atmos helmet.

Verified Buyer

Reviewed by Trailblazer from Texas on Sunday, May 25, 2014

The Giro Atmos is a top-rated helmet and with the sale + discount I got it at a great price. Helmet is very comfortable, well vented, with an easy locking dial. The only drawback was only one color was available and it had what seemed like bits of advertising on the helmet--'"Sunday sale," "Wash." Maybe it was a promotional helmet. But it's still an Atmos and at the price I paid--2x to 3x less than other places--I can live with that.

Reviewed by splash from north carolina on Thursday, May 15, 2014

I read one review that belittled the quality of the atmos helment.I've been wearing this brand and model for years and I've never had to return one yet. I've never even thought of questioning the quality.I wear this helment for its design,fit and comfort.We all are different and we'll wear different helments for one reason or the other but I'll stick to the atmos.

Verified Buyer

Reviewed by Evan from NYC on Monday, April 21, 2014

Ok. So I have sent back two of these helmets already. Giving it one last chance. It's not that I don't like the helmet and/or the fit but the issue is in the defects. Both helmets I received had two cracks in the front right by the carbon fiber. I am not usually picky about manufacturer defects esp. at discount prices but with a helmet...not so much. Esp. since I just got into a head on collision with a jerk cyclist riding the against traffic and not paying attention totally cracking my wonderful and beloved Giro Ionos. Anyway, it just appears that the craftsmanship on these was far from par. Fingers crossed for today, Sierra.

Reviewed by Aryn from Oregon on Sunday, October 27, 2013

High quality helmet, great price! Very light weight and great ventilation. Straps are a little tricky to get adjusted just right. Takes patience and lots of trial and error.

Reviewed by skichic from Seattle on Tuesday, April 16, 2013

The color scheme is quite pretty yet not too girly. That is the best part, but otherwise just ok quality. My forehead is exposed too much even if adjusting the tilt. Maybe it fits other shapes better than my head. Although I do like the space to pull through my ponytail. Also, not the sleekest. The sides are a bit bulky giving a slight mushroom appearance. I'm comparing Giro Atmos to what I normally wear, LAS helmets (made in Italy). The Italians use higher quality materials and sleeker design. Too bad no LAS left in my size. The straps on this Giro is very rough and stiff compared to LAS. Regardless of adjustments, it rubs the back and front of my ears and very uncomfortable around my chin. I may just use the Giro as a back-up helmet.

Reviewed by Tulitanssit from Maine on Monday, April 15, 2013

This is my first road bike helmet - I've worn mountain bike helmets till now. This sits more on top of the head, doesn't wrap around as much as a mountain bike helmet. Once I took it out for a spin on the road bike, though, I forgot I had it on. My son (the avid mountain biker) told me he didn't even notice I was wearing a helmet because it looked so natural. The straps are easy to adjust and soft against the skin. Excellent ventilation and very light weight.