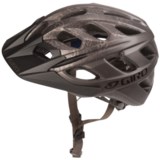 Closeouts. Giro's Hex bike helmet locks in an improved fit with the one-handed Roc Loc 5 system and delivers progressive style designed for aggressive trail riding.
Average Rating based on
12
reviews
4.416666
0
5
Verified Buyer

Reviewed by Eric from Aomori, Japan on Monday, July 7, 2014

Very nice helmet, some things about it are slightly off.

FIT: I bought a small, despite being *just slightly* larger than their recommended small-sized head. I decided to go small because I own other Giro Small helmets and they fit fine. It is indeed like I thought-- their recommended head sizes are listed a little smaller than true. You can be *slightly* larger than a recommended size and still fit it comfortably-- no problem.

ROC LOC 5 SYSTEM: Great. It is simple, fast, and fits the helmet very snugly to your head. Using the locking system in the back alone, my helmet doesn't move around. I feel very safe.

STRAPS: Here's the catch.
1) Despite having a head "too big for a small," the straps come HUGE! For now, I have a rubber band holding down my strap because I had to tighten it soo much that the extra strap slaps my ears when I'm biking faster than 5 MPH. NOT COOL. So, I'll have to cut that off, and burn it so the strap doesn't fray (not excited about the Jerry-rigging on my nice Giro helmet).
2) The straps aren't setup well. They naturally twist, and land sideways on your jawline (or cheek, depending on how you wear your helmet) rather than laying flat against your skin. I've owned CHEAP helmets who's straps lay flat better than this one. Very disappointed.

OVERALL: I will have to figure a way to fix my straps (2 problems!), as I almost dislike wearing my helmet despite the amazing breathability, and comfort on the head. Despite the odd straps, I'd suggest this helmet to anyone looking for a nice helmet who doesn't want to break the bank. Just make sure to get it on sale- I don't personally think it is nearly worth the retail price.

Verified Buyer

Reviewed by Nestor the mountain goat from Oxnard, Ca. on Friday, April 25, 2014

Lightweight and plenty of air vent, also the best price you can get only from Sierra Trading Post.

Reviewed by kmwj from Wyoming on Monday, March 10, 2014

Until I get in an accident I can't say how well it will ultimately function, but it fits well, is light and provides good visibility and air flow

Reviewed by Ethan biker from Virginia on Thursday, March 6, 2014

Fits very well. Easy to adjust

Reviewed by Livetrout from California on Friday, December 27, 2013

Fine helmet, great visor, lots of protection; perfect for mountain biking.
I got the XL, but it was just a bit too wide. Also the back-of-head adjustment is hard to use. I have had other similar adjustment types (including Giro) that were MUCH easier to use, so I don't understand the company's reasoning to make this action more difficult. I had to return.

Reviewed by Richyrich from Phoenix az on Sunday, October 20, 2013

I bought this helmet for my wife's as a gift she absolutely loved it! The helmet looks good and it fits her well and is totally adjustable.

Reviewed by SJG from NY, NY on Tuesday, July 9, 2013

Bought two of these for my kids. They are the same model but are not the same. The blue is dated 2012 and has a wheel adjustment mechanism. The white is dated 2007 and has a slide lock mechanism. I find the wheel on the newer helmet much easier to use. Giro says helmets should be replaced every three years. I don't know if this includes shelf life or 3 years of actual use. If you worry about the age of these types of things just be warned that some of the colors could be old stock.

Reviewed by Wisco Disco from Disco Wisco on Tuesday, June 11, 2013

I was very excited when i read the description for this helmet. However, when it arrived I was disappointed with the coverage. It seemed to fit like most other helmets, not covering down the side of my head or as much of the rear. I realize that most impacts would be covered but i was hoping that it would go all the way to my ears. It also sat high on my head even though the circumference seemed to be right on for a size large. The colors were nice and did definitely stand out . The visor seemed to be solid, as was the adjustable fit system. Overall it is a decent helmet , but just not what I was looking for. I am picky about the fit and everyone's head obviously isn't the same. STP 's excellent service and return policy were greatly appreciated. I personally would have a hard time complaining about $6 return ship when the deals are this good !

Reviewed by Sokol from NYC on Wednesday, June 5, 2013

fit 4/5. ventilation 3/5. color 3/5. look 2/5. protection should be 5/5 ( seats deep, back well protected, smooth surfaces, no back "shelf" for the road to "drag on". integrity 5/5 (on the very first day dropped twice on concrete along with the bike due to strong winds - not a scratch). STP price 6/5 (sign up for emails for great discounts - cant beat it with a stick). promises to be a good helmet. I plan to paint some of it in orange spray. at these prices one could afford to be creative.

Reviewed by The_Falko from SF Bay area on Monday, May 13, 2013

If you can buy this during one of STP's sales, do it. Most other retailers discount a mere pitance if at all, off the MSRP. About average in weight, my large tips the scale @ 328 g which is less than the 350 g stamped on the inner label. Breaths very well, better than the myriad others I've used. Roc Loc is very easy to adjust on the fly so it can accomodate a liner, sweatband, visor designed for under-helmet bike use w/ ease. A big plus is that I was able to purchase genuine Hex replacement pads on the internet for less than 10 bucks so I can keep a fresh, good fit for 2X as many rides. Apparently the Roc Loc system is also replaceable and the cost to replace is a fraction of the price of the helmet even at this price. 5 stars.