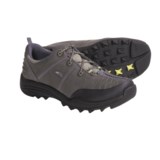 Closeouts. GoLite's Trail Lite hiking shoes are lightweight and rugged enough for both backpacking and day hikes thanks to the excellent traction provided by the Gripstick outsole with Amorphic Suspension and the all-day comfort of an EVA-cushioned insole and midsole.
Average Rating based on
47
reviews
4.510638
0
5
Verified Buyer

Reviewed by Janki from Pennsylvania on Saturday, May 3, 2014

Very nice product. Super comfortable and strong. Leather, sole are of best quality. Haven't used for long time but definitely looks rugged and reliable. Good choice for daily wear as well.

Verified Buyer

Reviewed by Sarah from Australia on Friday, April 11, 2014

Is a very pretty and comfortable shoe but unfortunately the instruction on the page about the shoe size is incorrect, I usually a size 36 but this one is a bit too small for me.

Reviewed by LMD from NH on Saturday, November 2, 2013

Perfect fit, great color. Better than expected!

Reviewed by Lina88 from Seattle on Tuesday, October 1, 2013

I have very bad luck buying shoes online, but these were so promising, between their looks and their reviews. So I did as other reviewers advised and bought up 1/2 size ... and they're the most comfortable shoes right out of the box! The styling is flattering, so my long feet look smaller. The lugs on the bottom have an unexpected touch of cushioning, giving the shoes a springiness that feels great on city sidewalks. The laces have an extra internal loop near the top, which helps them fit well. I have narrow feet, bony ankles, and wear orthotics, and these shoes accommodate all those issues. A winner!

Reviewed by NJG from New Hampshire on Monday, September 30, 2013

The GoLite Trail Hiking Shoes are great for day hikes. The soul is grippy on the trails, and has supported me well over wet river rocks, wet fall leaves, and slippery hillsides. The only downside (and why they don't get a five star rating) is that they are not waterproof. If they were, they'd be perfect.

The shoes come with extra inserts for a wide foot and a narrow foot. I left mine as is (average width), and they fit me perfectly, but it is useful to have the extra footbed materials sent with the shoe to support people who need that.



Reviewed by suethegrandma from vermont on Thursday, August 29, 2013

great shoes - great support on feet- grips great- great insoles that come out, or can add extra insoles pieces - nice lookiing and great price. daughter loves them, and is very happy with them. She walks alot and needs a good rugged shoe, this fits the bill. Would buy again.

Reviewed by Jett from Ohio on Friday, August 2, 2013

Very comfortable shoe. ...especially if you are on your feet all day...sizing runs true. Love the ability to adjust the width on each shoe by adjusting the insoles that are provided..Well constructed. Great support. I purchased 2 pair... bringing my total to 5 pairs of Trail Lite shoes. You will love these shoes.

Reviewed by Gabby from Ohio on Thursday, June 20, 2013

Hard to find a good walking shoe in Navy.
This fits the bill. I will even wear to teach!

Reviewed by jasper from Taos,NM on Monday, June 17, 2013

These shoes are very comfortable, fit perfectly and look good, too. Highly recommended.

Reviewed by dbaz from Tucson, AZ on Thursday, June 13, 2013

Initially I thought these shoes were a bit too stiff and tight but decided to try them out anyway. I'm glad I did because they were really comfortable and sturdy feeling. I wore them for a 30 minute walk around my very hilly neighborhood so I haven't tried them on an extended hike yet...but I expect them to be fine wherever I take them. I usually wear size 8 but ordered 8.5 and they were just right.

Reviewed by Eng from Charlotte, NC on Wednesday, June 12, 2013

I have 3 pairs of GoLite shoes and love them.
I bought this style at a great price - a pair for my mother and a pair for me. Very comfortable for hiking. Nice!

Reviewed by cowtchr from Vermont on Friday, May 31, 2013

This is my first pair of Golite shoes and I love them! I bought them to pull on when I need tie shoes (I prefer clogs) such as walking and riding the motorcycle. I just returned from a bike trip to Washington, D.C. They were light and comfortable touring the city and wind and waterproof when riding the bike. I got them 40% off with my Deal Flyer coupon, so they were a decent buy.

Reviewed by Walk-about-Nana from Bay area,California on Tuesday, May 28, 2013

These shoes felt great right out of the box,so I decided to do a test walk of two miles. No problems. The soles of the shoe look as though can handle the trails that we do for day walking. Will keep an eye out for more.

Reviewed by 2 Be Fit from Illinois on Tuesday, May 21, 2013

Great support, true to size and width-

Reviewed by Oksana from NYC on Friday, May 3, 2013

It's my first experience with this brand, but not the last . Really comfortable, light and for now waterproof. I use them to walk my dogs in any weather , even heavy rain (and we do a lot of walking). Highly recommended.

Reviewed by D from Oregon on Thursday, May 2, 2013

Love the styling and they are not a heavy shoe. I usually wear a 9 or 9 1/2 and the 91/2 is just right.

Reviewed by hate shopping from MD on Monday, April 22, 2013

These looked like they wouln't fit my odd-shaped feet right, but ended up being great! I have high arches and narrow heels and regular toes. The shoes are light, a lovely blue color, and I forget I am wearing them. I needed good walking shoes and these are perfect. I don't want to take them off.



Reviewed by Practical fashionista from unknown on Wednesday, April 3, 2013

Comfortable, good support, fun color--a fine shoe for walking or casual wear.

Reviewed by sarah from seattle on Monday, March 25, 2013

Just bought the first pair, and liked them so much I bought a second pair. Not sure they will hold up long term, but my shoes tend to look bad before they wear out. This pair may be wear out once they start to look bad.

Reviewed by Swimmer from England on Tuesday, March 12, 2013

They have a nice color. They are very comfortable and supportive. And, I live in a slick rainy area, and they grip the ground nicely. I like that they are rugged, yet look nice enough to walk into town in them.

Verified Buyer

Reviewed by sarah from seattle on Tuesday, February 26, 2013

I really like this shoe brand, but they run 1/4 to 1/2 size small. Not top of the line quality, but pretty good. I really like these shoes. Great blue, thin laces (a refreshing change). I hope these wear well, but tempted to buy a second pair, I like them so much! Easy to clean treads, and stable!

Verified Buyer

Reviewed by Lola from Corte Madera on Tuesday, February 19, 2013

After having read the reviews I knew to order a full size larger, which avoided my having to return the shoes. Should the shoes be too wide, there is an insert that should satisfy that need. In fact, I would have preferred a mite greater width in the toes box. I rarely purchase hiking shoes that are not waterproof or water-resistant; that quality was not advertised with these shoes, however. With that preamble, these shoes seem durable, seem to have good traction, and are well-made. Have worn them on two five-hour mountain hikes; they and I survived, and I suspect they will become part of my regular wardrobe.

Verified Buyer

Reviewed by Debbie from Chicago, Il on Saturday, February 16, 2013

These are GREAT shoes because they come with inserts to adjust for narrow or wide feet. I have a hard time finding shoes that fit right, most are either too big or too tight. When I first put these on they were a little snug, but after I changed to the wide inserts they fit perfectly.
I haven't had a chance to wear them outside yet, waiting for the weather to get better. I wish more shoe companies would do this.
I would buy these again.

Verified Buyer

Reviewed by Radio Lady from Central Idaho on Thursday, February 14, 2013

Very light weight, yet durable. Nice look. Wore them 9 hours the first day with no problems.

Verified Buyer

Reviewed by J from WI on Tuesday, February 5, 2013

Functional yet stylish shoe. You won't see yourself coming in these as they have a unique design.

Verified Buyer

Reviewed by Marcia from Brookfield WI on Saturday, February 2, 2013

Taking these on vacation to AZ. Plan on lots of hiking,& walking. Very lightweight! Good arch support! Like the different inserts to accomodate my plantar faciatis needs. The arch suppoet is great w/o my custom orthothics. Love the blue color especially w/jeans.

Verified Buyer

Reviewed by fair weather walker from Greybull, WY on Saturday, February 2, 2013

I was looking for a 4 season walking shoe and I actually am using them in my daily job. I am on my feet about 8 hours every day. I am loving my new shoes!

Verified Buyer

Reviewed by Teacher Joan from Oakland, CA on Friday, February 1, 2013

Currently I am using these shoes for everyday use and light hiking/walking.
They are extremely comfortable and look good too!
I have yet to find something wrong with these shoes. I have not used them for backpacking so I don't know (yet) how they would hold up with a pack on my back.

Verified Buyer

Reviewed by Rosey from Western CO on Thursday, January 31, 2013

I read the reviews and ordered up a half size. I love the design and color.

Reviewed by Shoe Lover from Northern California on Tuesday, January 22, 2013

I can't add much to other positive reviews here. I, too, find these shoes very comfortable and supportive. Two other observations worth mentioning: First, I ordered a half-size up based on other reviews. However, I think my regular size would have fit perfectly. I kept this pair and wear them with thick socks. Secondly, these shoes are much more attractive than I expected. They're not clunky or over-styled, and the color is cool!