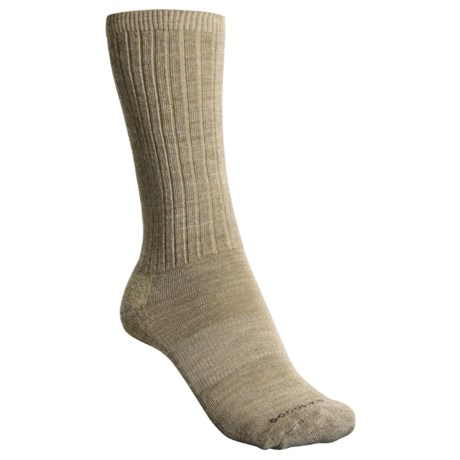 Padded sole (aka "arch support band")-- not a true dress sock; a hybrid dress active sock. Double duty! So far so good. Quality is find for 2nds.
Reviewed by Pop from worldwide on Thursday, March 6, 2014
I ordered these socks thinking they were wool dress socks.I was a bit surprised when I got them at the thicker bottom that tends to get fuzzy in comparison to the smoother cleaner texture of the rest of the sock. As a dress sock, this wasn't what I expected. However, as a dual-purpose hiking/dess sock, this extra thickness and padding on the bottom (the ad refers to "arch support band") tuned out to be a nice feature.

I've owned thin merino wool socks by a top-tier brand that quickly wore through with holes at pressure points in my feet. I welcome the thicker layer of material at the bottom of this sock and hope that it will provide longer life in comparison.

I've been wearing them a great deal for the last week to try them out and so far I'm please with them. I can't really speak to cold weather performance as it doesn't get all that cold down here in Florida.

I like my gear to serve multiple purposes. And, I can see this sock doing double duty as a dress sock and light hiking sock. Cold weather can be accommodated with my wool or nylon sock liner. IN short, I don't' feel the need to carry another of socks in my pack simply for hiking -- which I don't do a lot of anyway, unless you consider walking everywhere in Tokyo hiking.