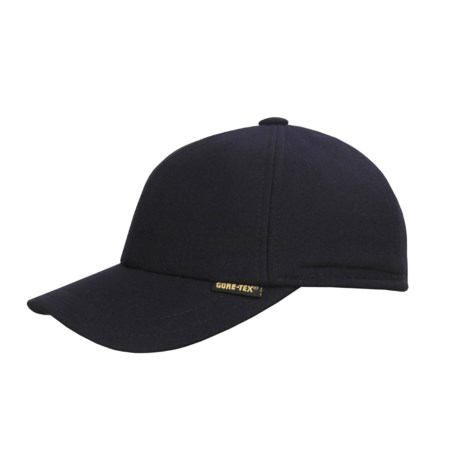 Great cap if you need a custom/euro fit
Reviewed by FIT EXPERT from Southwest, Pa on Tuesday, November 30, 2010
People this is a great hat if you like a custom fit aka european fit hat.

This hat should fit snug not tight with the flaps outside the hat weather turned up ( outside) or turned down. Be warned if you turn the flap inside the cap and it fits you perfectly , you are wearing the wrong size. This hat is made to wear with the flaps outside, whether down or up. This cap will NEVER blow away in the wind, trust me I have had one for years.

I have had this hat for 3 years and I am replacing it.

It take a bit of time to break any hat in. My 1st hat took me a year to break it, and got worn a lot in the second year. Now that I am used to this hat, I can now break it in faster.

People the visor in the pic has been CURVED by someone's hands. Dont get thrown off when the hat arrives with a flat horizintal visor. Use your hands to creat a custom visor that curves and fits only you. Trust me even the $300 to $500 designer hats arrive with a flat un-curved visor.

Another great benefit of this hat, is that it has no opening in the back, which give the back a formal custom look.

Here is my other own custom changes to this hat you might wanna use. 1st once you decide to keep this hat, get a small cuticle scissors and CAREFULLY cut the tacky Goretex off, start by removing the topside closer to you, then do the inner part when you have completely removed the top half of this tacky label. The label is made of stringy nylon so any remainly parts can be easliy removed by pulling the remaining strings loose. Now you have a really classy looking hat.

2nd part of breaking hat in is to it keep the flaps outside and down when putting on the hat. Pull the flaps down from back and sides and use visor to pull hat down over face. This will cause the wool to stretch overtime adding a little top length to the cap. Overtime if you wanna remove the earflaps you can only once the cap is broken in. The earflaps can be easiliy removed by removing only the thread that holds the flaps to the hat.

I hope my experience with this hat helps someone.
Describe Yourself: Comfort-oriented, High-end shopper, Practical, Stylish
Pros: Attractive Design, Breathable, Comfortable, Durable, Lightweight
Sizing: Feels true to size