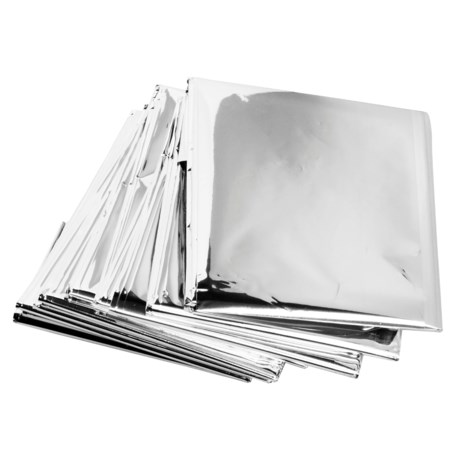 You can use this multiple time, especially if you take care of it.

These blankets are mostly for single use; they're quite thin & thus can be punctured or torn rather easily and are difficult to re-pack after use.

These are actually tough enough to be used many times, as long as you don't subject them to harsh abrasion. They'll survive re-folding many times, but as has been said, you'll find it near impossible to fold them back up as small as their original packing.||They're aluminized mylar, which means they can be punctured by sharp objects, but they're difficult to tear unless you start the tear with a sharp cut, as with scissors. (once the cut is started, though, it will split with ease.) (This also depends on thickness--very thin ones may tear easily.)||I believe this type of material reflects somewhere around 95% of radiated heat. And yes, they are "krinkly" and noisy.||Being mylar (polyethylene), they're NOT fire resistant and will melt, and even hold a flame under the right conditions.

These are very thin and only meant for emergencies. I would not count on using these more than once.

You can reuse them, but you'll never get them folded back up to the nice compact size they started out.

This is generally a single use, but there was an emergency blanket on Sierra that does the same thing but is more expensive. Found it: All-Weather Emergency Tarp 4011N. I'eve been using a similar product for years in the military & camping, yes it's full of duct tape but it works. Hope this helps.

Although with care I'm sure it could be used a few times, most people buy them for emergency use. Kind of like reusing aluminum foil, it can be done but refolding one would be tricky.

I forgot the footprint on my Nemo tent early summer 2013 in the Six Rivers and all I could find was one of these I bought from STP maybe 5 years ago. I used it under my tent on rustic ground cover for 2 days. It worked so well and was actually warmer than my regular footprint that I used the same blanket on 2 other trips under my tent. They will never fit back to original folding size but they pack easily and wash easily in any lightly flowing stream. They are LOUD, so position tent door at the edge on mylar blanket just so you don't awaken everything in the forest!