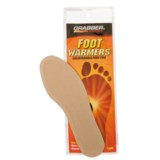 Overstock. Grabber's heat pack foot warmer is ideal for warming your whole foot when the chill is to the bone. Especially handy for spectators, hunters and hikers.
Average Rating based on
263
reviews
4.585551
0
5
Verified Buyer

Reviewed by Beyond Organic from United States on Saturday, February 18, 2017

I love these foot warmers. They heat up fast and last for hours.
Great price from Sierra.
Tip: If they are still giving off heat when you are done using them for the day, put them in an airtight container, and they will be good for use on another day.

Reviewed by Andriy-100ProSport from Kyiv, Ukraine on Thursday, February 9, 2017

Perfect for cold winter days!
Be careful: L size length is 25cm.

Verified Buyer

Reviewed by Logan from Asheville on Wednesday, February 8, 2017

Got these for hunting and look forward to using them.

Verified Buyer

Reviewed by Muddy from Bronx, NY on Friday, January 20, 2017

These inserts have served me well as a field worker in NYC and also as a retiree. They are comfortable and the heat is not over whelming.

Verified Buyer

Reviewed by Rere from PA on Thursday, December 22, 2016

I use all of the Grabber products. I suffer from Raynaud's and need to keep my extremities warm. These really work and the price is great. Try them in ski, snow and hiking boots. Perfect for winter days and nights.

Verified Buyer

Reviewed by Hunter from Mn on Monday, December 19, 2016

Very small

Verified Buyer

Reviewed by donna from colorado on Tuesday, December 13, 2016

Kept my feet soooo warm. Did make my boots a little tighter though so beware.

Verified Buyer

Reviewed by stacy from Massachusetts on Sunday, December 11, 2016

My husband works in residential construction and the New England cold weather can be brutal. I've always bought hand warmers but this is the first time I've gotten foot warmers for him. He loves them. Now, when he's working on rooftops in the freezing cold he can be warm.

Verified Buyer

Reviewed by SmokyMtnGirl from Tennessee on Sunday, November 6, 2016

These help keep my feet warm during football games ...... Love them!!!!

Verified Buyer

Reviewed by spot from Central Minnesota on Friday, October 28, 2016

These get a bit warm if you are walking any distance with them, they work great if you're sitting outside in the cold, I purchased these for sitting in my deer stand.