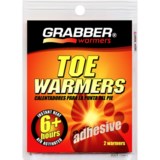 Overstock. This Grabber heat pack toe warmer is handy for spectators, hunters and hikers with heat that lasts approximately seven hours.
Average Rating based on
356
reviews
4.497191
0
5
Verified Buyer

Reviewed by Amanda the horse trainer from NY on Friday, November 11, 2016

lasts for hours

Verified Buyer

Reviewed by Nori from Montana on Wednesday, October 26, 2016

I spend 5-6 hours a day in winter temps of +20 to -30 and have relied on these since they hit the market many years ago. Real game changers. Don't expect "6+ hours of heat" tho -- 4 hours is more realistic. Don't buy more than you'll use in a year or two since they eventually start to degrade even when unopened. Keeping them in the freezer in sealed containers like canning jars (not just zip-lock bags) helps extend storage life.

Verified Buyer

Reviewed by DDS from Arkansas on Wednesday, September 14, 2016

Love these. I've used these for years and they keep my cold toes toasty.

Verified Buyer

Reviewed by Judy from Tennessee on Thursday, June 9, 2016

Perfect for those of us who have cold feet in air conditioning, autumn cold, winter, spring & just about all year long.
Glad I found this product and have it unhand to use.

Verified Buyer

Reviewed by Griff from Washington Cascades on Wednesday, February 17, 2016

My wife loves these "toe warmers". She uses them all the time.

Verified Buyer

Reviewed by Sharon D from Pennysylvania on Saturday, February 6, 2016

I put these in my boots and my feet are toasty all day.

Verified Buyer

Reviewed by Sarah from CA on Friday, February 5, 2016

I am so glad I found these! Normally, when I go snowboarding, my toes get so cold, start to hurt, then go numb for the rest of the day. With these warmers, my toes were warm but not hot the entire day. The second day I used them, it rained the entire day, and my boots got soaked all the way through to my socks but my toes still stayed warm. I don't know how I survived without them. I was surprised that the adhesive worked so well-they didn't shift around at all.

Verified Buyer

Reviewed by CHRISTINE from Bay area in California on Thursday, January 21, 2016

They are, simply stated, great foot warmers! Great for outdoors and work. I even use them when my feet need a little extra warmth whilst relaxing at home

Verified Buyer

Reviewed by Connie from Virginia on Tuesday, January 19, 2016

First time ordering these and they are great!

Verified Buyer

Reviewed by gman from New York on Monday, January 4, 2016

I find they work better if you attach to the top of your toes (over your sock, of course). Definitely helps to keep out the chill, but lasts only a few hours and still expect to have cold feet in anything below 30F.