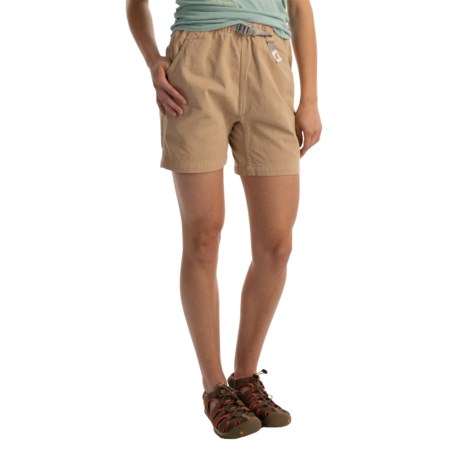 These shorts will have an inseam of 6" so they will be short in all sizes. Gramicci does run slightly large so a small should work for you.

These shorts come to about 3" above my knee and I am 5'5" and 137lbs. I wear a size 8 in jeans so I ordered the M. If you have a straight figure(not hour glass) and good legs, the S should fit you because they are a little baggy…. hope this helps :-)

I am 5'5" and 137lbs. I wear a size 8 in jeans most of the time. I ordered M because I have a thicker waist. I could have squeezed a S up over my hips but I think the shorts would have been a little tight and I wanted them for freedom of movement when hiking. Hope this helps :-)

I would order a small if I were you. I comfortably wear a size 12, and the medium fits fine. The shorts are very roomy and I'd guess you'll be swimming in a medium. Good length - I do not like my shorts too short, and these were on the longer side for me - I'm only 5'-3", so they may be fine for you.