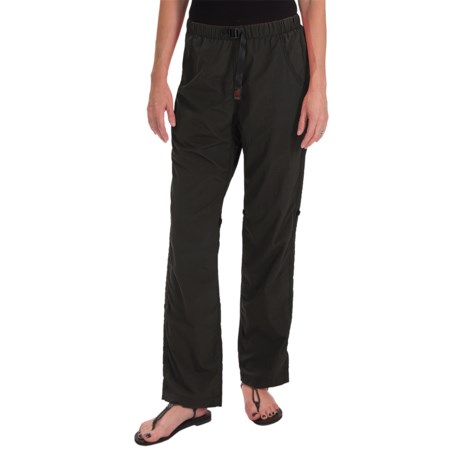 No, they can be rolled up and fastened with loops and buttons, but there is no drawstring to pull them tight around your ankles. Best thing to do in your situation would be to tuck them into your socks.

As is, you cannot tighten the hemline, but you could turn it over 1/2 " put elastic inside with a pull and tighten. The pants are really nice, i recommend them.

These pants don't have a cinch at the bottom hem of the legs. Though helpful, I don't think bugs would be prevented from crawling up the leg even with a draw cord except large ones. I believe the best way to keep bugs out of your drawers is to pull your socks up over your pant legs. That keeps out things like ticks and small crawlers. Problem with that is it isn't exactly fashion forward!

No, they do not tighten at the hemline.



No, but there is enough hem to run elastic or a cord through if you wante.