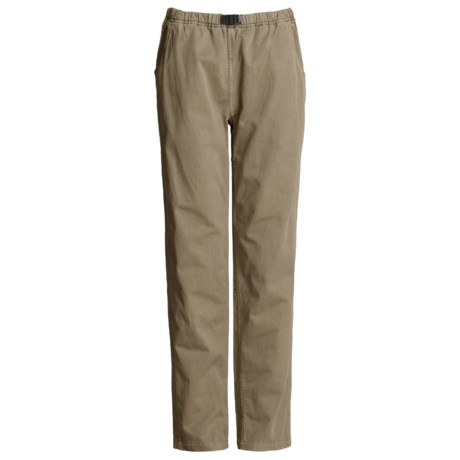 "twill" is just the weave pattern, cotton is still cotton.

These are more like a lightweight canvas fabric. The twill versions are a diagonal weave, and the twill is softer, more like classic chino pants. I have several pairs of both fabrics -- the twill is softer, almost feels like flannel after a couple of years of wearing and washing, BUT it is not as tough as the regular cotton weave of this model -- I tore one pair of the twills when I wore them hiking and caught them on a twig (in fairness, they were 8 years old and worn pretty thin by then). The twill has a nicer drape and you can wear them to the office like you would regular chinos. The plain cotton has a more rugged and canvassy outdoor look, more like jeans or cargo pants.

It's a twill that's been peached and is substantial in weight - kind of like a denim.

As a weaver, I think I can help. Both descriptions are correct. Cotton is the fiber and twill is the specific weave of the cloth. If you look at the cloth, the woven pattern seems to have a slightly diagonal slant and is woven by passing the thread over and/or under two or more threads; as opposed to the weave in a handkercheif which is over one thread, under the next. This twill weave gives the fabric much more flexibility, better drape, and greater ability to recover after stress and helps the pants keep their shape even after much bending and climbing. This weave is also one of the reason the Gramicci Douranda Pants are so comfortable.