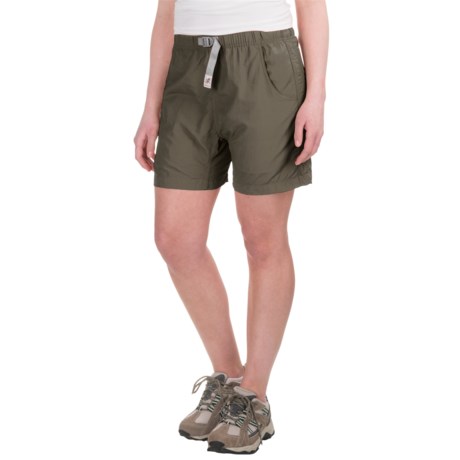 I have large thighs as well and these did not fit. I normally wear a medium but these were too small and too short. I didn't measure them exactly.

The inseam on an old pair that are probably 10 years old, size medium Gramicci, that I've had since my Colorado Rocky days measures 6". Heaven only knows from whom I bought them a decade ago. The outseam measures 16.5". The hem circumference measures 24.5". A caveat... the medium measurements are not consistent across all purchases or vendors. I just returned a women's medium Gramicci that was as tight as an extra small. Also the colors are not quite as pictured. I also returned a women's medium I just purchased as the color was a darker shade of gray, not dusky blue. I would suggest that you consider ordering either a medium or a large in the men's Gramicci shorts. You can retain the style & utility while gaining some leg length/width that you seem to desire. I normally purchase men's Gramiccis. I like my Gramiccis on the loose side. Sierra is a surplus, closeout offering,.,. valuable but variable. Good luck.

I am not sure these will be comfortable for larger thighs. I like them, but the material has no give to it.