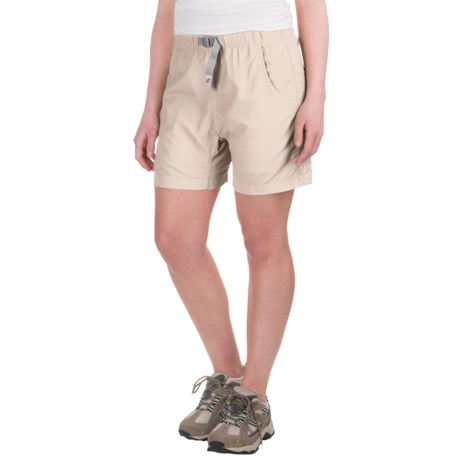 I would say it depends on how you like your shorts. I typically wear a size 2 or 4. I ordered two pairs, both the x-small and small. The smalls fit in the waist, but the legs were very baggy and huge. If you like roomier shorts for hiking, etc. I'd say get the medium. Otherwise, the small may be big enough as the waist is adjustable. The leg fit is truly the deciding factor and it's why I kept the xs as they fit loosely but not baggy. Hope that helps!

When I was a size 8, I took a women's small in the Gramicci shorts and pants. They run true to size, but they are cut generously (remember they started as climbing wear!). They will be comfortably loose but not dumpy and misshapen at that size.

I also wear an 8 ... some 10's. I am 5'7 and right now at my highest ever weight of 140lbs. I have several pairs in both small and medium and right now I am wearing the mediums...... but the waist is huge! (and that is were all my extra weight is right now).
The waist in the size medium is about 4.5" bigger than the size small .... and a good inch in the crotch rise. I don't understand why there is such a difference!
You would probably be just fine in the small. I don't mind that they are baggy so I am wearing the mediums ... plus, I have a long crotch rise so I appreciate that comfort. If you don't mind 'returning' then give both sizes a try.
One other note .... because of the built in cinch belt, I find that even the mediums are a bit of a struggle pulling them up over my hips and butt .... and I am not at all a curvy in that department.
I love them anyway. They are cool and comfy and they are very well made. There is a cinch belt which I can tighten the larger waist medium size so it works for me.

Oh ... I wish to add that I have purchased (and returned) numerous pairs over the past several months .... when I catch a good price..... wondering if maybe different colors might fit differently and since they are made in a couple of different places. I find no difference. The size Mediums have a good 4-5 inch larger waste for some reason.
For you, if you could only purchase one pair, I would go for the small.

I think the sizing is true. I normally wear a size 12 pant, fullest hip measurement is 42", I ordered the large and it fits perfectly--I like loose clothing. I did cut off the belt as it didn't add to performance and did add to my waistline. The shorts stayed put while I was learning how to paddle board so they work well for me.

The pants are very true to size. I take a 14 and they are VERY comfortable.

I also wear 8 pants. I bought medium and they are loose. I'd suggest small.

I would definitely order a 6 if I were you. These are big! Nice, but big!

medium

medium

I wear a size 4 or 6 pants depending on the brand. I ordered a small in this short and it fit fine so I think a medium would be a good fit for a size 8.

I found the sizes to be not that great. I am usually a size 6 but wanted a comfortable pair for tennis and room ror the tennis balls in my pockets. I bought a pair of Mediums and they were OK but a bit large in the fanny. OK , so I decided to get another pair in small. The small fit well once I get. them over my hips!! Not as roomy in the fanny but a trimmer fit. I like the leg length very well so I decided to keep both pairs.

I would say medium. I wear size 4-6 pants and the medium is wearable but really too large.