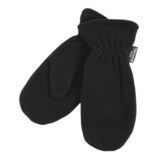 Closeouts. Made with 40g Thinsulate® insulation and a double layer of Grand Sierra's Super Soft fleece, these mittens are a cold-weather must-have, from brisk morning to sub-zero evening.
Average Rating based on
35
reviews
4.000000
0
5
Reviewed by frankie from Chicago on Saturday, February 15, 2014

These mittens are super warm and comfortable. The cinching around the wrist keeps the mitten in place and keeps cold air from getting in. They are nice for gripping the steering wheel for driving. My wrists are small and I can imagine that they might feel too tight on some people.

Reviewed by Lulucincy from Ohio on Thursday, February 6, 2014

These mittens are well-constructed. They are machine washable and dryable and still look very nice afterward. These mittens are very soft and quite warm.

Reviewed by TracyV from UK on Saturday, January 18, 2014

Very comfortable and soft. A great winter running glove.

Reviewed by TracyV from UK on Thursday, January 16, 2014

Bought these for running, but they are a little too thick. They will make great colder weather mitts though. Fit a little on the small side.

Reviewed by Lee from Mass on Thursday, January 9, 2014

these mittens are just fine , and for a good price ...the large size is not very "large" at all, and if you have large hands probably should pass on them.

Reviewed by Jakk from Quad Cities on Tuesday, January 7, 2014

Mittens arrived quickly and are prefect for this frigid weather we are having.

Reviewed by Shoppercher from Westport, MA on Tuesday, December 24, 2013

These mittens are very nice. Not for bitterly cold weather, but good for temps above freezing.

Reviewed by SD ranchhand from SD on Sunday, December 22, 2013

These are super, soft and light, while being comfortably warm. The only drawback that I've experienced is the tight elastic at the wrist. Probably a good thing for anyone working where there's loose snow.

Reviewed by Earthy Mom from Northern Arizona on Friday, December 20, 2013

I ordered my exact size based on the size chart and although the hand & thumb fit just right, the wrist elastic was very , very tight ( and I have petite wrists) I tried to wear them but felt like my circulation was being compromised...ack!...not what you wan tin a nice mitten...Other than that the material & design was high quality. I do recommend sizing up for the wrist elastic issue.

Reviewed by My Guy's Wife from West Michigan on Friday, December 20, 2013

These mittens were nice & soft, but ... they were very short in length, and the elastic around the wrist was ridiculously small. They definitely looked like children's mittens to me. Had to send them back.

Reviewed by Casual_Outdoors from CO on Wednesday, December 18, 2013

Wanted a simple pair of mittens, didn't need to be waterproof. These are just what I was looking for. True to size, comfortable, warm.

Reviewed by Jennifer from California on Monday, December 16, 2013

The mittens were of nice fleece and should have been great. The color was not as it appeared online, but the real problem was sizing. I have quite thin wrists, but the elastic in the mitten wrists was so tight it was a bit of a struggle to put them on. And the length allowed for fingers was barely enough … and not enough for my left hand. Since I'd bought mittens because I am currently wearing a small splint on a left finger, this was a showstopper. For someone else, they'd be fine, though.

Reviewed by Asics Lover from Chicago on Monday, December 16, 2013

For the price, I bought 5 pairs. These are backup mittens I keep by the door for when my 11 year old daughter can't find her good gloves. I started wearing them. Very warm for fleece. And the price, I got them for around $5 and would buy five more! They do kinda turn your hands black the first time you wear, so maybe I should have washed them. But, soap and water cures that! Don't hesitate and get more than one pair - others will want!

Reviewed by Ruth from Kentucky on Friday, December 6, 2013

Runs VERY small. More like kids sizes. Medium was too small for me, and I have tiny hands.

Reviewed by Work Hard to Play Often from WI on Sunday, December 1, 2013

I think they fit a little small. I can't remember if there were sizes to choose from or if it was one size. They will work for my daughter, I"m not so sure they would be comfy on me.

Reviewed by JoggerNut from Williamsport, PA on Tuesday, November 19, 2013

I plan on using these when I'm out walking in the cold temps or using the snow blower. I measured my hand and then went up a size due to comments on other reviews. They were right. Definitely go up one size. You can't go wrong with thinsulate gloves.

Reviewed by mountainlove from Mammoth Lakes, CA on Wednesday, November 6, 2013

These mittens are nice and warm; however, they do run small and the elastic around the wrists are very tight, not to the point where they cut off circulation, but not the most comfortable. I have average-sized hands, ordered a medium, and they're a bit too tight. My fingertips a little crammed at the front of the mitten. Overall, not bad, so I'm keeping them, but won't order another pair in the future.

Reviewed by azgal from az on Tuesday, October 8, 2013

These are a nice mitten...run a little small. Cozy!

Reviewed by buybread from Ithaca NY on Wednesday, July 10, 2013

These mittens are going to be great for winter this year. Not too bulky but warm. I have small hands and the medium fit perfectly.

Reviewed by elena from Brooklyn on Monday, April 8, 2013

i love this gloves. They are very comfortable, soft and warm

Reviewed by Judy from Downingtown, PA on Saturday, April 6, 2013

I like these mittens and this is the second time I've purchased them. It's true that they are a bit on the small side, but the large fits me just fine. I have a large hand, and my middle finger barely comes to the end of the mitten--so they are probably a bit smaller than a lot of mittens, but I don't see that as a problem.

Reviewed by RealistView from Illinois on Wednesday, March 13, 2013

I read the reviews before ordering which said these mittens run small but I thought since I generally wear a small, the mediums should be perfect for me. These are child-sized mediums being marketed to adults. They feel like a pair of shoes that's one size too small. I ordered 2 pairs hoping to have them on hand for next year but they aren't worth returning because of the shipping cost so I'll donate them to a shelter next year.

Though I didn't get to wear them to determine how warm they are, they are not as thick as the mittens that I was trying to replace.

Verified Buyer

Reviewed by Judy from Downingtown, PA on Wednesday, February 20, 2013

I like these mittens a lot. Others have said that they seem small, but they fit me fine. They are warm, the main thing with a mitten. Just got them so don't know how durable they are. They have a nice clip to hold them together. Good buy.

Verified Buyer

Reviewed by tiff from wisconsin on Sunday, February 10, 2013

fit great inside another pair of mittens, but not very warm on their own. they run very small.

Verified Buyer

Reviewed by Hardy New Englander from Erving, MA on Tuesday, February 5, 2013

I find mittens much warmer than gloves, and like these for the gripper pads. I have previously purchased a similar item at Land's End; they don't seem to have them anymore. These might not be quite as thick as the Land's End product, but, so far, in the frigid New England weather we've been having, I have been happy with these!

Verified Buyer

Reviewed by Doll Maker from Mukwonago, WI on Friday, January 25, 2013

THese mittens run small. I have smallish hands and the large fit perfectly. These are nice and warm!

Verified Buyer

Reviewed by VT Gem from Underhill, VT on Thursday, January 17, 2013

These mittens are a very good value. Make sure to order a size larger than usual since they run small.

Verified Buyer

Reviewed by fiddler from Muncie,IN on Monday, January 14, 2013

Great for dog walking!

Verified Buyer

Reviewed by mox from San Jose, CA on Monday, December 10, 2012

Seemed slightly small, and came with a split seam about 1/4" long right where the thumb was sewn to the mitten-body and you could see the white Thinsulate though the black fleece.

Deciding whether or not to return it - return shipping is high. :(

Verified Buyer

Reviewed by yoopemom from Upper Peninsula, MI on Monday, December 3, 2012

Very nice, warm fleece mitten. These will be nice for winter driving. They seem to be slightly water resistant even though they are fleece. Only complaint is they seemed to be a bit small, I ordered a large and my fingers are right to the end.