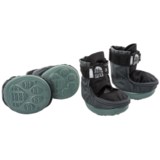 Closeouts. Protect your dog's paws from jagged rocks, hot pavement and snow buildup with Granite Gear's Dog Clogs trail shoes. Waldies Comfotek soles provide excellent traction, and the Cordura® and stretch nylon upper is highly durable.
Average Rating based on
67
reviews
2.835820
0
5
Verified Buyer

Reviewed by Dee from North Dakota on Friday, June 5, 2015

Super cute, but really big

Verified Buyer

Reviewed by M.E. Mahan from PA on Monday, February 2, 2015

Looks very durable and cute too. They run really large so order a size down.

Verified Buyer

Reviewed by chili_bean from Denver on Monday, January 12, 2015

purchased for a lab...who gets frozen pads. He loves being out in the snow and cold, but soon starts holding up his feet off the ice when they get cold. These are well made, but the xl was too big for our dog (who has HUGE feet). The bottom of the shoe is quite thick -- like a croc's shoe and when I put these on him he had trouble walking because of the squishy sole. then he rolled over and chewed them off each foot. So much for these shoes.

A smaller size might have been better. However, my dog just didn't like the feel of them. Tops are stretchy and easy to put on. The velcro tie is fairly secure... the sole is about 1" thick though...

Verified Buyer

Reviewed by slushsucks from duluth, mn on Wednesday, December 24, 2014

These are very large and don't fit paws well! In addition, I could see a dog getting hurt with them on. The thick sole is not conducive to a dog paw!

Verified Buyer

Reviewed by dog walker from Colorado on Friday, December 19, 2014

These are too large for my dog's paws.

Verified Buyer

Reviewed by bonnerdg from Oklahoma on Thursday, December 18, 2014

these are really big in size, I have big German Shorthaired Pointers and the large was sloppy loose on them. also the formed "paw bed" was stiff. I've tried several different styles of boot for hunting in thorny western Oklahoma...these are better suited for a city dog on a snowy sidewalk. Sorry but returning these.

Verified Buyer

Reviewed by pizzajordan from mo on Wednesday, December 10, 2014

very wide , sizes run big, my dog has narrow feet, put socks on your dog first to see if they will accept a pair of boots. my dog doesn't like his feet messed with so its trouble trying to get them on

Reviewed by Figs from Colorado on Monday, October 13, 2014

Bought these at the store for my 2 y.o. vizsla that had damaged his pad on a long hike. He was gimping around for 3 weeks on it off and on 3 legged so I had to do something. We first tried wrapping his foot and he just carried it in the air. We knew then he had to have more than 1 wrapped so he would have to put that foot down sometime. Bought size MEDIUM and tried them on. They fit well, it's a bit tricky to maneuver the foot into the boot because you have to flex the foot first to go in, then back to reach the toe area. The velcro works well and it's nice it has reflective tape on it. The dog did not like wearing them initially but after a day of using them, he is putting weight on that foot again and running well in them. I like the thick sole (rubberized). I do not like that the boots are not individually sized so you have left/right and front/back. The back boots need to be narrower or a smaller size for this set to work. So buy 2 sets, use 2 boots from each set for front or back and you'll have a set of backups. Will have to update later if we still love them. So far the dog is tolerating them well. I do notice that with heavy running/sprinting/playing that sometimes a boot will twist around or the tongue of the boot will end up inside the velcro part... I am going to try using baby socks over his feet first and then adding the boot. I think this will add another layer of padding and hopefully stop the boot from rotating (though it doesn't get messed up if you're careful when you put the boot on and adjust it). His feet are about 2.25-2.5 inches wide (front feet). Medium worked for us.

Reviewed by A in W from Wyoming on Monday, September 15, 2014

Try though we did, there was NO keeping these on our 45-lb. pit bull mix. (And GETTING them on her was a whole different story. The design just isn't great in terms of fitting a paw in easily)

I think the major flaw is in the way the clogs close; you've just got a strip of velcro to wrap around the leg, and even when the boots are a good fit (size M was perfect for ours), all it takes is a couple bounds and the shoes come flying off.





Verified Buyer

Reviewed by Hospital Honey from Chicago on Thursday, September 11, 2014

So I did read all the other reviews, but my guy is an American Bulldog and weighs 98lbs and has huge paws. I thought an XL would work, definitely NOT! Size down with these. Also nicely made, but my guy want nothing to do with them because they are so chunky.