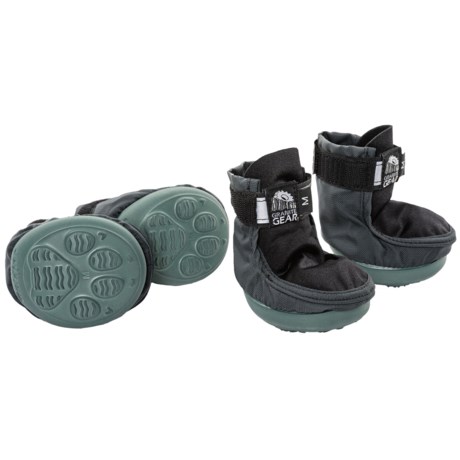 They're not perfect but they work well.
Reviewed by Figs from Colorado on Monday, October 13, 2014
Bought these at the store for my 2 y.o. vizsla that had damaged his pad on a long hike. He was gimping around for 3 weeks on it off and on 3 legged so I had to do something. We first tried wrapping his foot and he just carried it in the air. We knew then he had to have more than 1 wrapped so he would have to put that foot down sometime. Bought size MEDIUM and tried them on. They fit well, it's a bit tricky to maneuver the foot into the boot because you have to flex the foot first to go in, then back to reach the toe area. The velcro works well and it's nice it has reflective tape on it. The dog did not like wearing them initially but after a day of using them, he is putting weight on that foot again and running well in them. I like the thick sole (rubberized). I do not like that the boots are not individually sized so you have left/right and front/back. The back boots need to be narrower or a smaller size for this set to work. So buy 2 sets, use 2 boots from each set for front or back and you'll have a set of backups. Will have to update later if we still love them. So far the dog is tolerating them well. I do notice that with heavy running/sprinting/playing that sometimes a boot will twist around or the tongue of the boot will end up inside the velcro part... I am going to try using baby socks over his feet first and then adding the boot. I think this will add another layer of padding and hopefully stop the boot from rotating (though it doesn't get messed up if you're careful when you put the boot on and adjust it). His feet are about 2.25-2.5 inches wide (front feet). Medium worked for us.
Most helpful negative reviews
Similar items and more information in the following areas: