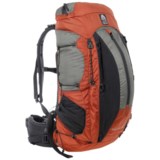 Closeouts. A spacious, ultralight overnight pack that carries as well as heavier packs, Granite Gear's Escape AC 60 backpack features the Air Current suspension that flexes with your movement and substitutes cordage for nylon webbing straps to reduce weight.
Average Rating based on
6
reviews
4.333333
0
5
Reviewed by procyon from Alaska on Tuesday, December 17, 2013

I have had this backpack for over 6 months now and it has been surprisingly durable given how light it is. I have taken it on a 30 mile Olympic National Park multi-day trip as well as a few shorter two-day hikes. In both situations, I ended up over packing and was easily carrying upwards of 50 lbs. The pack showed no sign of damage despite being over its suggested weight limit. It also survived multiple airport journeys in between trips and kept my gear inside safe and secure.

Most recently, and what inspired me to write this review, I lost the pack on the highway during a blizzard. It was hit by a snowplow, dragged maybe half a mile, and then run over by several trucks, all while filled with gear like my sleeping bag, air core, clothes, etc, and the only damage were a few puncture marks on top that I can easily fix with a patch kit.

My only complaint is similar to another reviewer: The front pocket isn't the most useful when the pack is filled to the brim. It is very stretchy so you can stick in things like a rain cover (which this does NOT come with), nylon cord, etc. I also don't care for the draw cords. They are durable and covered in a kind of waxy coating to keep them from fraying, but I have had the bottoms come loose on both front cords and had to retie them. Not a big deal, but I've found that actual straps are a lot easier to work with than cords. This is a very functional (aka minimal) but comfortable pack. The front pocket has three loops on either side that I've attached straps through and I have been able to secure everything from a two person tent to a sleeping pad without damaging the stitching on any of the seams.

I am only docking a star due to the sometimes annoying draw cords and, as another reviewer mentioned, the side water bottle pockets are angled and not the most functional, though you can stuff anything in there as the pockets are very stretchy and can be cinched closed. All in all an outstanding, durable pack. If the draw cords are a deal break for you, consider Granite Gear's Vapor Flash backpack for a similar style.

Reviewed by SI12920 from Albuquerque, NM on Tuesday, November 26, 2013

I bought this pack for weekend trips. This is my first backpack. Have taken it on a couple of trips and I like it so far. The adjustable fit ( a little tough to figure out and adjust but hopefully you only do it once) is great. The suspension is also very good for a lightweight pack. I usually carry no more than 30 pounds.

It doesn't have a whole lot of pockets on the outside. The water bottle pockets can't hold more than 20oz bottle and since it is slanted the bottle sometimes falls off. It also has a hydration sleeve so the side pockets are for extra water/gatorade. The other flat side pocket is not very useful once the pack is full.

The compression straps ( cords not straps) seem to be sturdy enough to hold hiking poles etc.

The front pocket has a vertical zipper, so you have to always remember to close it, otherwise things might fall off. The top compartment is roomy enough to hold things you need to access quickly (first aid kit, sunscreen etc.)

The construction is very sturdy. I was worried about the mesh in the back. Seems to be holding up.

For the price, I would say it is a great pack.

Reviewed by kyriverman from ky on Tuesday, August 20, 2013

I have a few packs and this one is my favorite.Its just right between the ultralight packs and the heavy ones.I have had the ultralights they are very uncomfortable.This pack is at its best with about 20-30 lbs.This pack is awesome,best three pound pack around.

Reviewed by Make from Hangzhou on Tuesday, July 16, 2013

very light pack, great quality.
It will be better if gets more functional pocket.

Reviewed by Chris from Central Colorado on Friday, July 12, 2013

This is kind of an interesting in-between lightweight pack. It's certainly not light enough to qualify as an ultralight pack, but it is pretty dang light. The suspension is better than most ultralight packs, but is not really up to monster loads. Keep it under 35Lbs. That said, in the realm of lightweight packs the suspension is very good, it's comfortably contoured to my back, the shoulder straps are lovely and it has effective load lifters and compression straps. I am a tough fit, my torso length is about 17 1/4 and most packs are either a little small or a little big, this one fits nicely. Adjusting the torso length is a bit awkward, but not too bad.

The main compartment is a useful shape, this is a fairly easy pack to load. The outside pouches are reasonable enough, the tilted water bottle pouches are a little awkward, but they don't interfere with the compression straps at all, which is great. There are no waistbelt pouches or really much trickery, this is a pretty bare bones pack, but hey, that's just less to break right?

The construction quality is very good, it's stable, comfortable, effective and simple. Tough pack to beat in my book, and the price is reasonable for what it is.

Reviewed by Rex the wanna be hiker from Michigan on Thursday, July 4, 2013

I bought this model when it first came out, maybe 3 years ago. It is not an ultralight pack, its a "light weight pack". This means it carries weight up to about 45 lbs very well, ultra light packs can't do that. It is also more durable then an ultralight pack. It also has water bottle pockets which have become quite rare. The only downside is the water bottle pockets can't hold 1 liter soda bottles. Forget completely about nalgenes, of course if you are weight concious you wouldn't dream of using nalgenes anyway. The pack holds 20 oz gatorade style bottles nicely. My goal was to have all my water outside of the pack and because of this I still have to carry some inside with a 3rd 20oz bottle sitting on top. Most people use hydration bladders so this probably doesn't matter. But after seeing my friends bladder leak and flood his pack, I personally will never use them again. Wet gear can be deadly so USABLE outside water bottle pockets are a must.
Anyway great pack, only thing I would change is slightly larger bottle pockets, but I am being picky. Oh I didn't mention it earlier, but great construction everything you would expect from A high quality pack.