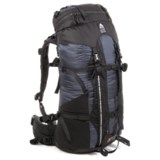 Closeouts. Smartly designed and weighing under three pounds, Granite Gear's Meridian Vapor backpack offers ultralight enthusiasts the comfort of a Vapor suspension, front panel access to the main compartment, and a floating lid that converts to a fanny pack.
Average Rating based on
1
reviews
2.000000
0
5
Reviewed by Hikes without Husky from Seattle, Washington on Friday, July 5, 2013

I haven't found this pack to really work for me. The zipper on the top pouch is on the bottom, rather than the top. During normal operations, that means gravity empties the pouch anytime you open it. Now, if I were to fall off a cliff and land head first, the zipper would be properly oriented to keep the contents in. Alas, in typical biped mode, the pouch is simply a constant frustration.

Most of the straps have velcro sewn into the edge, and the intent is that you roll up the excess strap like a measuring tape and velcro it into a bundle. Almost a neat idea, except that if you want to snip off the extra 6" of strap to cut weight, the velcro is sewn to the bottom so you wouldn't be able to use it to tie down any remaining length of the strap. And part of that bundle of extra strap is what holds the top pouch onto the pack - there isn't a solid connection from the pouch to the pack - without the bundle, the top doesn't stay on.

The top pouch is intended to be removable, so I tried several ways to turn it 'right side up' so that the zipper opened to the sky rather than the ground, but could not come up with a configuration that didn't make the pack uncomfortable. I could remove the top pouch entirely, and not lose a lot of usable space, but I prefer having something to help shelter/cover the main compartment of the pack.

Speaking of which, the main compartment is very roomy, and the side pouches on it are deep and stretchy, which I liked. There aren't any other zippered pockets though, which I knew from looking at it online. I find I miss having places for food, field guides, maps, and other essentials. My wife misses them, too, as she now carries the field guides. :(

One feature I really like is that the waistbelt is completely removable. I wear a web belt with my camera and water bottle on it so that I can take my pack off and navigate better for photography, so not having a waistbelt in the way is a big plus.

If you see a hiker coming down the trail on their hands, it may just be they've figured out how to use the Meridian Vapor backpack within the laws of gravity.