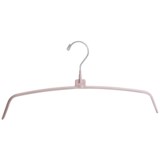 Closeouts. Wave goodbye to hangers that distort, drop and ruin clothes, and say hello to these knitwear hangers from Great American Hanger Co. Rounded shoulders prevent pucker marks in knitwear, and coated metal keeps clothes from slipping.
Great for delicates or hanging wet items
Holds wide-neck items
Set of 25
Dimensions: 16x3/8"
Weight: 3.3 oz. ea.
Material: Vinyl-coated metal with polished chrome stem
Made in China.
Average Rating based on
67
reviews
4.477611
0
5
Verified Buyer

Reviewed by Breck from Virginia on Monday, November 2, 2015

Ordered this in the summer and it arrived during a heat wave and the 'vinyl' coating was tacky and sticky to the touch, definitely NOT something I would want touching clothing for fear of ruining it, not to mention the possibility of leaving chemical residue on the clothes that would later be touching my skin. Days later it wasn't as bad but was still slightly tacky to the touch and that was in an air-conditioned environment. Don't know if it was a defective one or if this model just cannot be subjected to heat but I returned them.

Verified Buyer

Reviewed by Maine Reader from Maine on Monday, September 7, 2015

They hold silk and other slippery material very well. The keep the shape of blouses, shirts and sweaters...robes...everything real well.

Verified Buyer

Reviewed by Nicole R from New York on Thursday, September 3, 2015

I live in an older apartment & the closet has an extra thing hanging dowel - I've had a hard time finding hangers that fit. These did, so I ordered more & replaced out all my old plastic hangers. Very happy.

Verified Buyer

Reviewed by Ghost from S. Calif. on Sunday, August 23, 2015

I am phasing out my old wire hangers and warping plastic hangers with these. I have seen that my silk shirts benefit from using these as they have a softer line and have a coating that is gentle on more delicate fabrics...knits esp. Now I use them for all my hanging garments as through a sale with STP they are an excellent price....and they last a long time.

Verified Buyer

Reviewed by Jammy from Texas on Thursday, August 13, 2015

After receiving a couple of these hangers from a retail store with an apparel purchase, I fell in love and went on a mission to find more. Thanks to STP, my search ended. Commercial grade durability and my clothes hang beautifully with no slipping or indentations in the shoulders. Even better, at the STP discount sale price, these were even cheaper than those popular flocked hangers sold on TV.

Verified Buyer

Reviewed by Anonymous from WI on Wednesday, December 10, 2014

I would like to give these zero stars, but do not have that option. I have ordered two sets of these in the past, and love them. The past shipments had hangers that were quite sturdy, next to impossible to bend them, they hang straight on the rod, and they hold clothes on them really well. Tank tops and wide neck tops never slide off the hangers. This shipment was a set of hangers that are so flimsy they bend when I am putting clothes on them, the curved part that goes over the clothes rack is not straight and they all get tangled together, they are less than half the weight of the originals. I didn't notice this until I had placed them in my closet and they got mixed up with the old ones, otherwise they would have gone back. Too much work to sort through them now. Such a disappointment.

Verified Buyer

Reviewed by Anonymous from Colorado Springs CO on Sunday, November 16, 2014

Non-slip- so clothes stay on the hanger
Slim profile - so they do not consume closet space / not bulky
Sturdy - they do not wimp out with heavier items
Straight - with a nice curve that keeps items from having a "poke" mark on them

I love wood hangers, but reasonable priced ones break - so I have been replacing my wood hangers with these and using the rest of the wood hangers for pants or jackets.

Love these hangers!

Verified Buyer

Reviewed by Judy from Downingtown, PA on Wednesday, October 15, 2014

I love these hangers--this is my third purchase of them. They are strong, and the coating holds tank tops and slippery fabrics very well.

Verified Buyer

Reviewed by Biker dude from Palo Alto, CA on Monday, September 8, 2014

These hangars are no-nonsense and work especially well for knits. No slippage! Good bargain.

Verified Buyer

Reviewed by Displaced Coloradan from Orange City, IA on Friday, July 11, 2014

While these are fine, I'm not sure I'd order them again. They do indeed hold knit blouses firmly on the hanger, so no complaints about their performance. However, they were wider/thicker than I expected (and than my favorite vinyl-covered hangers that I can no longer find anywhere) - about the thickness of your regular plastic hanger from W-Mart. Since I have a small closet, they take up more space than I'd like.