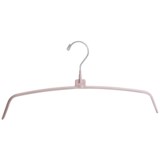 Closeouts. Wave goodbye to hangers that distort, drop and ruin clothes, and say hello to these knitwear hangers from Great American Hanger Co. Rounded shoulders prevent pucker marks in knitwear, and coated metal keeps clothes from slipping.
Great for delicates or hanging wet items
Holds wide-neck items
Set of 25
Dimensions: 16x3/8"
Weight: 3.3 oz. ea.
Material: Vinyl-coated metal with polished chrome stem
Made in China.
Average Rating based on
67
reviews
4.477611
0
5
Reviewed by Illinois Shopper from Illinois on Monday, April 1, 2013

Great value, seem to work very nicely. Both my teenage daughter and I love them!

Reviewed by LinOakland from Oakland, CA on Sunday, January 6, 2013

The horizontal part sticks back at an odd angle from the top part (the part that hangs from the rod) instead of all being in a straight line. I bent all of mine to line up better, but in general, they seem flimsy and not well made. I have similar hangers I bought years ago from a local store that no longer sells them and the quality difference is huge. I'm disappointed, but not enough to go through the trouble of returning.

Reviewed by NJML from New Jersey on Thursday, January 3, 2013

Hangers do exactly as stated, keeping shoulder stretch away from sweaters and tees. Also great for keeping clothes in place on hanger without slippage, coats, jackets, camis, blazers. They do take a bit more room than the thin 'miracle' hangers from the TV shopping channels. However, to perserve clothes at all budget levels, these are worth the cost and space.

Reviewed by Tara J from Seward AK on Saturday, December 8, 2012

I bought a pack of 25 and figured that would be enough. Gradually I have started to use these for more and more of my tops, and have decided I must buy another pack of 25!

Verified Buyer

Reviewed by Andi from Santa Monica, CA on Wednesday, August 29, 2012

I got tired of having little bumps on sweater shoulders. These work.

Best Uses: Closet
Describe Yourself: Homeowner

Verified Buyer

Reviewed by Janet from Western MA on Monday, July 30, 2012

It looks like these hangers will do the job of hanging sweaters without developing those horrible shoulder bumps.

Best Uses: Closet
Describe Yourself: Homeowner
Pros: Attractive Design

Verified Buyer

Reviewed by CKO123 from Virginia on Friday, June 22, 2012

I bought these to replace some trendy slim hangers that tended to break. These are meant for knits/sweaters, but are fine for all kinds of tops. The only negative is they have a plastic smell that lingers for a week or two.

Best Uses: Closet
Cons: Initial odd smell
Pros: Durable

Verified Buyer

Reviewed by maggiemaecra from Ann Arbor, MI on Thursday, June 21, 2012

I have purchased 4 boxes of these from STP. The price is unmatched. These leave absolutely no "shirt wings" on any type of fabric. I love them and have converted all of my and my husband's shirts to these hangers. The coating is high quality and they don't snat anything.

Best Uses: Closet
Describe Yourself: Homeowner
Pros: Attractive Design, Durable, Easy To Move

Verified Buyer

Reviewed by outdoor fanatic from Nebraska on Tuesday, January 3, 2012

These work as advertised. They're great for clothes you want to be able to just grab off the hanger, no need to fasten clothes. This is my second order

Best Uses: Closet
Describe Yourself: Homeowner, Professional
Pros: Attractive Design, Durable

Verified Buyer

Reviewed by Elaine in CO from Colorado Springs, CO on Wednesday, November 9, 2011

I can't believe how miraculously well these work for hanging sweaters and other knits prone to those "shoulder bumps" from traditional hangers. My only quibble (and it's not one really, since it doesn't effect my own experience) is that these might not be wide enough for men's sweaters. For me--a size medium female--they're perfect.

Best Uses: Closet
Describe Yourself: Homeowner
Pros: Attractive Design, Durable, Easy To Move, Inconspicuous, Lots Of Storage