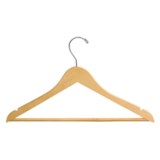 Closeouts. These polished hardwood suit hangers from Great American Hanger Co.feature a walnut finish with a flat body, two carefully crafted notches for the option of hanging straps and a chrome swivel hook. Finished with lacquer to prevent splintering, these fine hangers preserve the shape of clothes and will extend the life of any garment.
Average Rating based on
75
reviews
4.213333
0
5
Verified Buyer

Reviewed by Nature Enthusiast from Washington, the state on Tuesday, December 15, 2015

These are the perfect hangers; they are smooth so there is no snagging of your clothes' threads, there are notches for holding the ribbons that keep garments from slipping off, the crossbar is firmly attached making them very sturdy, they are narrow enough to take up little more space than cheap plastic hangers, and they are beautiful!

Verified Buyer

Reviewed by saltydog from NYC on Monday, November 23, 2015

great hangers at a great price. am pleased with purchase.

Verified Buyer

Reviewed by Anonymous from Oregon on Monday, October 5, 2015

Great hanger, especially with notch at the end: good for hanging dresses with straps.




Verified Buyer

Reviewed by Too much coffee man from Colorado on Monday, May 25, 2015

I keep reordering these because my wife steals them. No frills, these are what you think they are.

Verified Buyer

Reviewed by Dog Mom from Kansas on Sunday, April 5, 2015

For being called the Great American Hanger Company, I expected better quality. Yes, these hangers are made in China, which is evident in the finish and the attachment of the crossbar and the warped wood. They are a good deal, but I would rather have straight hangers that I know will not snag my work clothes.

Reviewed by gulfbreeze from FL on Friday, February 27, 2015

In a moment of impulse, I tossed these in my cart to use for some advanced knit fabric base layer tops & high UPF rated shirts. I never once thought that the notches at the shoulders would not be sanded smooth as they have always been in my previous wood hanger purchases from internet retailers (at similar prices). Since the notches at the shoulders are very rough, every slight movement of the fabrics you can hear the inner surfaces of the shirts getting snagged. , I tried a variety of other fabrics (fleeces, soft shell knit jackets, etc), and most every fabric in my closet snags on these notches, but your closet may differ. One more heads up, these hangers are built flat, so they don't have the slightly forward curved neck that helps shirts fit well on the hanger (like you'll find on so many other wooden hangers).

I suppose my biggest disappointment is this is the first 1 star product I've bought on Sierra in my 20+ years of shopping here...it's still the best retailer for my kind of outdoor clothes/gear I've found.

I should have left the hangers in the box and sanded them smooth before using, but went ahead and hung everything up. I'll take them down and do the sanding job on another day. Probably time to buy a Dremel tool anyway, so by law any purchase that requires buying power tools does have an upside.... ;-)

Verified Buyer

Reviewed by Clothes Horse from Virginia on Monday, July 28, 2014

The wood is of poor quality is chipped in many places. I definitely would not order this again. If these last more than 18 months, I will be surprised.

Verified Buyer

Reviewed by Marty from Idaho on Monday, June 30, 2014

In all fairness, I have ordered so many boxes of these over the years with zero problems and in perfect shape. Just last week, I received a box only to find the dowel was not an even color, not smooth and even missing stain/paint. The top part was perfect. I was sent another box that was a bit better but still, unacceptable compared to all the other ones I have received. In the end, I give up. I shall wait maybe half a year in the hopes that the quality returns to what it used to be. As always, Sierra Trading Post has the best customer service. Please check with your distributer and check and see what went wrong. I need more of these!

Verified Buyer

Reviewed by gunnut46 from Tennessee on Monday, June 23, 2014

I've ordered these several times both for me and relatives. They're a good deal and they are a fabulous deal when you run one of those 45% off sales. Or even 35% off. I've gotten rid of most of the wire hangars. Well, actually, I saved the wire for alternative uses. You won't be disappointed with these hangars. And the prices beat the socks off Walmart.

Reviewed by JH from Michigan on Sunday, June 1, 2014

These are nice hangers for the price. Well lacquered and quite secure. They are sturdy enough to hang my pants on and replace the plastic hangers that have been bulged permanently in the middle.

These only get 4 stars as I wish they were not as wide at the bar as a few of my shirts cannot fit on these without stretching the collars. These are also twice the width of my plastic hangers so I only use these for pants and jackets due to limited closet space.