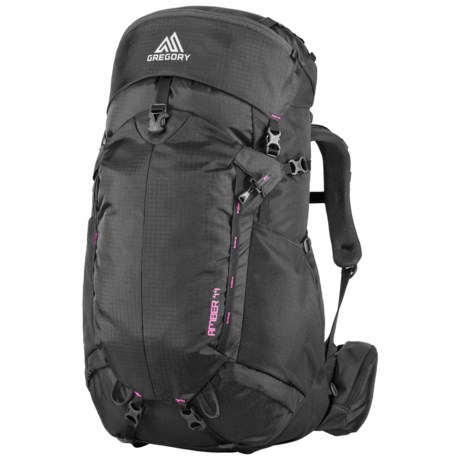 Yes, it is. You can view an official video on all of the features that the Gregory Amber line offers here:
https://youtu.be/b1aWugRCwJ0

Honestly, I cannot be certain but I am inclined to say 'no', it does not. My confusion comes from the fact there is a slit at the top of the pack. Immediately adjacent that is a small triangle of fabric with a water icon with 'H2O' with on it. There is attached webbing and quick-release buckle - all to secure the top of the pack closed. Other than placing the bladder in the main compartment of the pack I am unable to identify a separate or dedicated area for the bladder.

I purchased this pack for a two-week backpacking trip in Europe. I was thoroughly impressed by it - it is very versatile in that I was able to tighten it down to a relatively small-size pack for kicking around towns but with the flexibility to expand for 'travel days' when I loaded it up and hauled everything with me. It carried the loads well and was always comfortable, regardless of the continued weight. I didn't pamper the pack in the least and it still looks great - no split stitching, busted straps, or broken buckles. I love my Amber 44 and got it for a great price from Sierra Trading Post!!