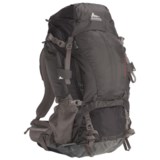 Closeouts. Offering outstanding support for backpackers who need a little less capacity, Gregory's Baltoro 65 backpack offers easy access to the main compartment and multiple storage options.
Average Rating based on
17
reviews
4.941176
0
5
Verified Buyer

Reviewed by Golfwheels from Chicago on Saturday, February 7, 2015

Although smaller, I bought this to replace an old EMS pack I've had for years. The older pack holds about 6500 cuin so I'll need to be a bit more conservative about how I pack but the comfort of this pack is with the trade. I'm taller at 6'2" and bought the large and it fit great with little adjustment. I've taken it out with about 35# in it and never been happier with a pack's loadbearing capacity. The weight rides effortlessly on your hips and feels like it's barely there. I'm looking forward to getting some more weight in it and taking it out this spring for a couple days.

Reviewed by Your Average Joe from Colorado on Monday, July 22, 2013

This backpack holds a lot of weight really well. Other packs I have used tend to tip me backward when I stand up normal, and I can never get them close enough to my back to feel comfortable with how they feel. I have had no such problem with this new Baltoro pack. There is one thing that I would change if I had the chance, and that is the the size of the pockets on the sides of the main compartment. When the main compartment is full, there is practically no room in the side pockets making them nearly useless. If those expanded a little further, then they would be more useful. Overall, there are still 65 Liters of space, and this pack has plenty of room and some to spare, and has proven to be a better pack than any other I have ever had.

Reviewed by Karl Stocker from California on Monday, July 8, 2013

I've traveled with my old Gregory Baltoro for some years to dozens of countries, until, last month it was stolen in El Salvador, and my trip was suddenly cut short. As soon as I got home I searched for a replacement. I like the survivability of the material, it is really tough, and after years of being dragged around in many military and civilian aircraft, loaded and bounced around all kinds of conveyances, outside of a little dirt, it was absolutely perfect. Zippers all worked flawlessly, too. Being used to that kind of quality had me look for no other than another Baltoro. Internally simple, it worked for me and I know where everything is stashed. This new one is very much like the one I lost, with a few improvements added, but overall, pretty much the same, and thus already packed and ready to go on the next journey. I expect this pack to last for many years to come, and may be, barring theft or some other calamity, the only backpack I will ever need.

Reviewed by D from near Seattle, WA on Saturday, July 6, 2013

Great pack! Light and roomy, carries a lot but distributes it well (interior and exterior pockets were well-designed). Waistbelt moves with my hips and is really comfortable, as is the molded back. For reference, I'm a 6'1" 160-lb male, pretty average build.

Reviewed by Dave from Seattle wa on Friday, July 5, 2013

This is an excellent pack. It is heavy by comparison, but the fit and ergonomics are so good it makes everything seem lighter. Good weight transfer and solid construction. This one should last a while.

Reviewed by JohnB from VT on Tuesday, June 25, 2013

It's comfortable and roomy. Not for the purist with all the zippers and pockets and (YIKES) the top that turns into a fanny pack of some sort. (I cut that strap out, by the by.) It's well made, cleans off pretty well, the zippers are easy and don't bind, not counting the sleeping back compartment zipper. Probably because it's gotta be super rugged, which it is.

The straps are fab, the hip belt sits properly, and the lumbar pad is very comfortable. Believe it when you hear that if you're on the cusp, go with the smaller. 18" sternum and small was perfect. This after only about 10 miles, but with 65 lbs, and some laps up and back on the grandstand across the street. Way more than I intend to carry on the trail, so I'm looking forward to some sweet mileage.

My only complaint is the water bladder arrangement. You pretty much have to 1/2 empty the pack to get it in the proper pouch. I'm going to forego the whole thing and drink from a bottle.

Reviewed by Crackerjack from Alabama on Tuesday, June 18, 2013

Been looking at pack after pack, nothing even compares to the quality and workmanship that went into this pack.
Finally get to take it out next weekend for its virgin run,can't wait

Reviewed by SD Hiker from San Diego on Monday, June 17, 2013

Great pack. Have done many trips including the HIgh Sierra Trail in its entirety and have never had any problems.

If you are looking to go ultralight this is not your pack. You will notice the weight. For me the fit was so perfect that the weight didn't matter. I try to offset the extra 2-3 pounds with other lightweight gear. In my opinion footwear and pack comfort is the key to a successful trip and I can go much fast carrying extra weight as long as I'm comfortable.

Reviewed by AF from Indiana on Wednesday, June 5, 2013

I went through REI and tried on every backpack they had in stock, loading the pack with 35 lbs of bean bags and hiking up and down the stairs and all around the store. This one by far fit the best and the weight felt perfectly centered where it needed to be for my back. I am a female but I am a swimmer with bigger shoulders so these shoulder straps fit perfectly. The women's packs were all a little narrow in the shoulders for me.
I can't wait to take this pack on my next backpacking trip.

Reviewed by Rocky Mountain from Where the elk roam. on Tuesday, May 21, 2013

Pros:
-Made with durable materials. Tough fabric and #10 YKK zippers. A little extra weight, but well worth it.
-Great padding. Probably the best padding material I've ever found on a pack. Straps are also replaceable if damaged.
-Suspension system carries heavy loads better than any internal frame I've tried.
-Offers some organization with pockets.
-Comfortable and secure fit to the body.
-Transfers weight to hips very well.
-Sleeping bag compartment/ bottom access to main body of pack.
-Available in Earthy color schemes for those who don't care to look like a walking bag of skittles.


Cons:
-Side pockets are sewn tight to the main body of the pack so they won't hold much.
-Zipper placement on the large back pocket limits usefulness. It should be along the top, not down the middle.
-Squeaky suspension.
-A little sweaty on the back.
-Water bottle pockets not very ergonomic or secure. Also lacking in capacity. (I find this common among most packs)

Working as a guide I got to demo close to 20 packs of this size/niche. The Baltoro makes the top 3. It's a tough durable pack. They hold up well over time and rough use compared to most civilian packs. Fit is very individual, but most people find it very comfortable. The only packs that beat it for weight bearing capabilities are external frames. My load was up to 37lbs at times and it could have easily handled more. Padding is the best on the market. This pack secures the load to your body very well during rigorous activity. It's an excellent pack and I gave it 5 stars, but it did have some flaws for me. There is a grippy section on the lumbar pad that helps keep it in place, but it did rub me at times. The belt and shoulder straps have rigid plastic supports behind the padding which adds to the comfort and load bearing capability, but they're always sticking out when not wearing the pack. Kind of annoying since I use my packs for urban travel as well as back country. There's a lot of adjustments for cinching down your load, but the abundance of straps can seem like a plate of spaghetti. I really like having good externally accessible organization and the pocket designs aren't great for my needs. Suspension system performance is excellent, but it squeaks which isn't ideal for hunting (this possibly could be mitigated though).

This is a very good pack. Fit, needs, and preferences are a very personal thing. Ultimately I ended up going with an Osprey, but despite the personal drawbacks I found in the Baltoro, I could do very well with one. Best advice I can give anyone looking for a pack is to go try them on in person before you buy. And put some weight in them! When you've found a couple good candidates, STP is an excellent retailer both because of their great discounts and customer service.