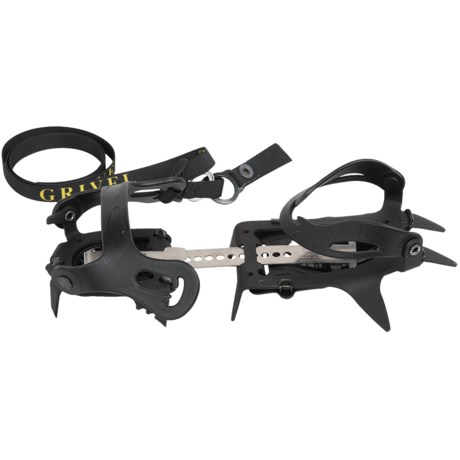 Monte Rosa Grade Crampons
Reviewed by Rocky from Boulder, Colorado on Sunday, November 24, 2013
The Monte Rosa crampons are a base (cheaper) version of Grivel's G10. They are no longer listed on Grivel's website. They differ from the G10 in having an all black appearance (the G10 has yellow botts and straps), the metal has a matte finish instead of the polished powder-coated finish of the G10, the straps are lighter (a plus since they are easier to handle), and only the front points have been 3D stamped. The latter refers to the process of embossing--pressing indents into the metal to add strength. They just fit my size 46 boots (Asolo Sasslongs from STP and others). The crampons are made of chromolly steel with a weight of 29 ounces or 820 grams according to the accompanying spec sheet, confirmed on my scale. This is a half pound heavier than my Stubai Ultralight aluminum crampons. The Grivels come with antiballing plates, antibotts, which help keep snow from balling up underfoot rendering the crampon useless, a major reason I bought them. Grivel's antibotts are among the best, if not the best, available. The STP price with discounts is less than half the retail price of the G10.


These are trekking or "walking" crampons in European parlance, intended for glacier crossings and approaches, crusty snowfields and the like, and not for serious climbing. The points are arranged four lateral and four perpendicular to the line of your foot (plus the two front points). Thus, there are just two points digging in if you are trying to side-step up a steep slope. My Stubai Ultralights, also 10-point trekking crampons, have six lateral points and just two perpendicular. These dig in when climbing but force you to sidestep when descending even modest slopes. The Grivels are probably more versatile, but less capable on more demanding terrain.


Monte Rosa is the highest point in Switzerland, about 100 meters taller than the neighboring Matterhorn, but the route from Zermatt is mostly a long hike on snow-packed glaciers up a modest grade to a high point on a ridge (can you take the hint from the name Grivel gave these crampons?). The Monte Rosa crampons at STP are a great value if they meet your needs.
Most helpful negative reviews
Similar items and more information in the following areas: