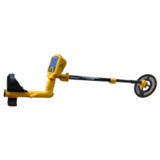 Closeouts. The high-tech yet easy-to-use Ground EFX MX 100 digital metal detector offers three elimination modes, high signal strength, durability and the ability to alert you to what's below the surface before you begin digging.
Average Rating based on
4
reviews
2.750000
0
5
Reviewed by Detecting Maine from Maine on Tuesday, August 4, 2015

Look if you really want to become a treasure hunter please buy a real metal detector as this product is only for show it's cool looking and had many options as others do but they lie to you a nail is always a quarter lol I didn't know quarters were made of iron and forget about finding that 1901 s barber it's to deep infact if it's 5 inches deep it's gone forever with this machine very displeased with this detector hope it helps others in there choice when purchasing good luck

William Sargent

Brewer Maine

Ps.
It will find lots of pennies lmao

Reviewed by ERR4 from NC on Tuesday, March 11, 2014

I was anticipating the arrival of this so much to find husband's lost wedding ring, but when it arrived, the packaging was torn up--not the shipping box, the product box inside the shipping box.
One end and part of the top had been ripped off and were missing. Someone had tried to hold the box together with wide packaging tape.
I returned the product without even trying to put it together. Apparently, someone else had already bought and returned this metal detector.
I'm not interested in buying a used product.

Reviewed by Gabriel from Santa Cruz California on Tuesday, June 18, 2013

I bought it and I'm so happy with it!
the wire wasn't really that bad to get it in together as the other review said.
and yes it has high sensitivity!
I love the coil, I can just drop the sand over the coil and see it right on top:)
its a pretty good price ! I highly recommend it !



Reviewed by Paul from Oklahoma on Wednesday, June 12, 2013

I bought this unit to see if I wanted to get into the hobby. Putting it together should be simple right!!! You slide the power cord up through the shaft of the machine to connect the power and display to the reciever. Apparently when they bond the metal end of the shaft to the fiberglass they suease it too tight or something because the metal connector from the reciever will not go through the shaft from the bottom end. I even put the reciever part in the freezer over night in hopes of shrinking the connector, no luck. I ended up cutting a slot in the fiberglass shaft to get the connector hooked up then duct taped it back together. It works but looks like crap and it brand new. No I didn't want to ship it back too much hassel. Other than that it works as advertized.