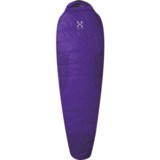 Closeouts. A three-season bag built to handle cool mountain nights, Haglofs 15°F Hypna 3S down sleeping bag wraps you in 600 fill power down, with extra insulation in the footbox and an adjustable thermal collar.
Average Rating based on
3
reviews
5.000000
0
5
Reviewed by Mia in Arvada from Minneapolis, MN on Saturday, May 3, 2014

I learned the hard way that there is NO substitute for a quality sleeping bag. I took a non-brand sleeping bag to Iceland and nearly froze my rear off in the fall 2013. I was so miserable that I ended up buying a sleeping bag for $200 the next day. The second sleeping bag was nice and warm but weighed like a ton. It was a good thing I wasn't backpacking through Iceland; I rented a car so carrying the second sleeping bag wasn't an issue until I tried to get it on the plane. It forced me to check in my luggage because it was too large for carry-on.

When I got back to the States I decided to do some research on sleeping bags - some ran high as $1500 and up. That's ridiculous! I'm not camping in the Antarctic but if I were, I'd take my cues from the Innuits of Greenland, the Dukha of Mongolia or the Sami of Russia. They know how to bed down - probably with lots of dead animal skins. Anyway, the Haglofs 15°F Hypna 3S Down Sleeping Bag was on sale, I grabbed it up. It is one of the best (and smartest) decisions I ever made - (four sleeping bags later!). This sleeping bag is a dream. I'm sorry to see it sold out but if you're serious about camping, skip all the "trying to save money" on camping gear and get the right sleeping bag. You don't have to sell your first child to get a decent sleeping bag. Start out with a Haglofs and upgrade from there as needed.

Reviewed by salray from somewhere on the Pacific on Tuesday, January 28, 2014

I like this bag. The lining is soft, the down is lofty and I am fond of the purple color. I haven't used it in extreme temps, but it seems like a very nice 3 season bag. I also appreciate Haglofs sustainability practices.

Reviewed by mora from California on Friday, January 10, 2014

LOVE this sleeping bag - extremely well constructed with a differential cut (inner layer is smaller that outer layer to allow down to fluff) and filled with quality goose down (90/10 - NOT from live plucked geese). I also love that Haglofs is an environmental friendly Swedish company. The bag lofts like crazy to keep you warm with no COLD spots (had problems with cold spots with higher end sleeping bags from Marmot) and opens up fully to use as a blanket in warmer weather. I hesitated a lot between the 30 and 15 degree bag and ended up keeping the warmer one and I am glad I did. Both are extremely well made, roomy for a mummy bag, with a great fluffly collar to keep the cold out and a comfy hood. The zipper is one of the best I have seen in a sleeping bag with its snagless feature to minimize snags. This bag lofts up high no matter how much it has been compressed and comes with with a nice, quality compression bag and all cotton muslin storage bag (rather than mesh which is common). Fabric is very comfy and quiet and feels like sleeping in a cloud. I highly recommend the 15 degree over the 30 degree one if you are looking for a all year round bag because you can always open it up if too warm. Temperatures rating appears to be accurate and being cold sleepers, I expect this bag to keep us warm in temperature in the low 20's, which is plenty for Northern California. Remember that in any down sleeping bag, you are the radiator, so if you enter your bag cold, indeed it will take longer to feel warm. Have a hot drink and move around to warm up before entering the bag and you will be toasty and warm all night long! Highly recommend is brand for its quality and attention to details although it is not much known in the US (being a leading outdoor company in Scandinavia and highly popular in the UK). You won't regret it.