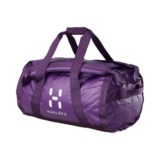 Closeouts. Made of ultra-durable waterproof fabric, Haglofs Lava 50 duffel bag boasts a minimalist design that holds up to any adventure and removable, padded shoulder straps.
Average Rating based on
11
reviews
4.636363
0
5
Verified Buyer

Reviewed by D. from Southeast US on Wednesday, May 7, 2014

I like this minimalist duffel. While the materials and build are first rate the 'fabric' is coated on both sides leaving the outside potentially vulnerable to abrasion/damage. The design goal is to achieve high resistance to moisture (not submersion) and this makes for a stiff, low flexibility bag wall. If you are not seeking designer bag appeal then you'll probably appreciate this duffel for its quality, value, and water repellancy. STP's pricing is significantly lower than other sellers of this bag. I will not check this bag because of the potential for damage by the handlers....but it will perform well as a first rate, heavy duty carry on. The 50L size will do well in a small automobile trunk as well. Another winner from Haglofs and STP.

Reviewed by Anonymous from Elk City, OK on Sunday, March 9, 2014

Excellent quality and rugged materials. Waterproof (not submersible). Carry-on size. Good price. No pockets. I really like this bag.

Reviewed by Montana Michael from Montana on Wednesday, February 12, 2014

The bag is actually larger than I though it would be when I ordered it. The bag appears to be nicely made and is very attractive; but, the outer covering is soft and I will have to use it for a while to judge it's toughness. After all, it will hold stinky gym clothes.

Reviewed by Frederick outdoor man from New England on Tuesday, January 14, 2014

very nice protection from weather. Can carry like a back pack with adjustable straps. The top zippers open in u shape for easy access. I would rather have blue but had no blue colors.

Reviewed by Ian from Oregon on Thursday, November 14, 2013

I bought the Lava 50 in Glow Green. I bought the bag for its size, simplicity, and backpack strap carry option. I typically travel with two bags (messenger/laptop bag and clothes bag), so the backpack straps were better at distributing the weight across my shoulders and back, compared to a regular duffel.

I recently used the bag for a 5 day trip. I packed 3 pairs of pants, 3 dress shirts, 1 polo, 1 t-shirt, 1 pair of workout clothes, 1 pair dress shoes, 2 packing cubes for socks and undies, and a toiletry bag. The bag was around 80% full and easily fit into the overhead bin of a 737. I didn't try stuffing it into the overhead bin of the small commuter shuttle, but it probably would've fit with some coaxing.


Things I like about this bag:

--Simple design: It's a no-frills bag that gives you just enough to comfortably get your stuff from point A to B without adding unnecessary pockets, zippers, etc.

--Nice materials and colors: The glow green is VERY bright, but it's still a very attractive color. Most of the bag is coated nylon, which should improve water resistance. The bottom of the bag is heavyweight nylon.

--Backpack carry option: As mentioned above, this was the bag's primary selling point for me.

--Big enough for a week long trip, if you pack efficiently.

Things I'd change:

--Include an option for removable chest and hip straps.


Overall, this is a great bag at an excellent price. Definitely recommended.

Reviewed by Elaine from TX on Wednesday, November 6, 2013

Have been looking for a really strong duffle like this for awhile. Hoping to pack it in the overhead for airplane travel as well as general sports activities. Wish I'd gotten another one for my son.

Reviewed by Fishing dad from Near Morristown on Tuesday, November 5, 2013

I was looking for simple bag for carry-on or for weekend car trips. This bag nicely fit the bill and the STP price was just right. Got two in different colors; the lime one is quite bright but I kind of like it. Quality looks fine, we'll see how they handle their first flight soon.

Reviewed by Triple Shrek from Whiteface Mtn NY on Friday, October 11, 2013

This bag is great! It is the perfect size for a carry on. No handles, wheels, bulky side pockets, etc.... to take away from the actual cargo space of this bag. You can easily pack this bag for a week long vacation and carry it on a plane. The fact that its soft allows you to stuff it into overhead compartments that would normally reject a traditional carry on luggage piece. I bought another as a gift right after using it on a week long trip. Indispensable. Perfect size. Cool colors.

Reviewed by Romulus from Rome on Monday, July 22, 2013

This is a very simple bag -- just one small interior pocket and, otherwise, an empty bag. But it is sturdy, well-made, water-resistant and the backpack straps work. It makes for a much lighter carry-on than a rollerboard and will hold about the same amount but will fit in many more smaller spaces. I thought it might be a little too small as compared to the Patagoonia Black Hole 60, a very similar bag, but I think it is actually the right size and at STP, it was less than half the price. A great buy.

Reviewed by Rebecca from Pennsylvania on Friday, June 28, 2013

Nice size, easily fit a weeks worth of cloth for travel. Wish there was a should strap in addition to the back pack straps, but a great bag!