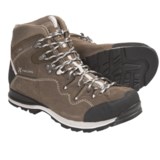 Closeouts. Haglofs Vertigo Hi Gore-Tex® hiking boots combine waterproof breathable protection for technical backpacking trips and long approaches with the outstanding support and comfort of SOLE heat-moldable insoles.
Average Rating based on
19
reviews
4.052631
0
5
Reviewed by BRS from Montana on Monday, December 5, 2016

I've had these boots for 3 years now, and they are one of the best pairs of boots I've ever owned. The most important thing in a hiking boot is the way it fits your foot. Different companies use different lasts. If the last used to build the boot isn't right for your foot then the build quality won't matter, it will still be uncomfortable. A boot shouldn't necessarily be rated poorly just because it doesn't fit your particular foot. That said, the Haglof''s Vertigo is a spot on fit for my foot and the build quality is nothing short of excellent. The high quality sole insert is a plus. It doesn't need to be replaced with an aftermarket insole like most boots. This is a true quality hiking boot, not a high top tennis shoe. The ankle support is great, and the boot needs a break-in period before any serious excursions, but they are amazingly light for the support they provide. I've put them through the ringer in all kinds of weather and mountain terrain and they still look good enough to wear around town without being embarrassed. Sierra Trading Post was great to deal with as always, and I should have bought another pair when they had them in my size to replace if these ever wear out. Highly recommended.

Verified Buyer

Reviewed by Scott from Indian Trail, NC on Tuesday, February 10, 2015

I cannot believe I got these after discount for $85! Very well made boots but very stiff out of the box. Wearing these on a camping trip fresh out of the box is just asking for quarter to half-dollar sized blisters just on the hike to the campsite. Trust me, I know, I wore a pair of Montrail Moraine AT's fresh out of the box on a 3 day camping trip once and wound up with huge open blisters on both heels. The 4 star rating will probably be 5 stars once these boots are sufficiently broken. They are very supportive, great tread, incredible workmanship, and nuke proof when it comes to ankle support. Buy them if you can, especially if you have an additional 40% off and free shipping.
Hike on!

Verified Buyer

Reviewed by Crippled hiker from Beaver, Utah on Wednesday, February 4, 2015

I have only had these boots on one time and that was a day in the office. The fit is terrible. Roomy in the toes and heel but extremely tight across the top of my foot. They are too narrow for my foot shape. I should return them as I don't think that addition wearing time is going to change how they feel. That's what you get buying a product made in China.

Verified Buyer

Reviewed by Freelander from Denver, CO on Tuesday, February 3, 2015

Have been wearing these for a couple of weeks now. This is my first pair of Haglofs. They were quite firm in overall feel initially. Breaking them in like a nice pair of dress shoes. I heated the insoles in the oven according to the instructions. That definitely helped them form fit to your feet. A bit like a ski boot liner. They feel solid...like they are going to last. The construction is very well done and they are quite sharp looking for a hiking boot. I plan on using these for many years to come. Would definitely buy again. Thank you STP for another great deal! :)

Reviewed by Wyoming Badger from wyoming on Saturday, January 17, 2015

I order most of my shoes from Sierra Trading Post. Never heard of Haglofs before, but they looked good so I gave them a try. These are the first boots in a long time, that I knew I was keeping as soon as I laced em up. They look great, the fit is stellar, and the price was right where I needed it to be. I have only had them for a few weeks now, but I know these will be my go-to boots as soon as I'm able to get back into the mountains. I wear a size 10, bought a 10 and they are perfect. I also have a wide fore foot...again these fit great. The moldable sole feels good as well.

Verified Buyer

Reviewed by jim from Denver on Tuesday, January 13, 2015

I'd give these boots about a 4.6 if I could....I like them a lot, but don't love them (by contrast, I have 2 pair of AKU Tetons that I'd rate at 5.6).
Here are some details. My usual size is about 11, and I prefer a boot with a narrow heel and medium across the ball, capable of fitting an orthotic and a medium-high arch. I ordered a size 45 EURO, and the size is spot-on with moderately heavy weight trekking socks . Excellent support and comfortable.
However, there is something about these boots that holds them back from being my go-to boots. I didn't realize when I ordered them that they are designed for "technical backpacking trips and long approaches", and my preferred style is fast day hiking---so that probably explains why these aren't the best for my uses, but I still like them a lot and couldn't consider returning them.


Verified Buyer

Reviewed by JH from Arkansas on Sunday, January 11, 2015

Overall, a very comfortable, great looking boot. I have only worn once while traveling. Noticed a little discomfort around upper due to rubbing. Fit as described. These are really nice looking boots.

Verified Buyer

Reviewed by Coloradopatrick from Denver, Colorado on Sunday, September 21, 2014

STP continues to wow with great quality at great prices! These Scandinavian beauties were a hit right out of the box. The fit and finish are world class. Made in China is not synonymous with low quality - I'd put these boots up in comparison with any made in Italy or Germany, they're that good. I have 20+ miles now and they are a please to walk in. A slight roll to the sole puts a spring in my step and very light considering the great ankle support and cushioning. I look forward to the path ahead and the journey of a thousand miles. Thanks again for the outstanding bang for the buck.

Reviewed by Dave from Texas on Thursday, September 18, 2014

Great made boots, super durable but just not comfortable. I've tried two different kinds of insoles and they still feel like concrete at about four hiked miles. Bummer cuz they ain't cheap.

Verified Buyer

Reviewed by Bumpy from Boston on Monday, June 2, 2014

The uppers chafed my leg a little during break in, otherwise I'd give these boots 5 stars. They are light for high hikers, very sturdy, have quite a lot of rocker so comfortable stride with solid base. Have not used a lot yet, but I think they will be well worth the break-in and become boots I will mourn when they wear out, which from the feel and quality I expect to be a very long time from now. The heat form soles are great, all you need to do is wear the boots (you can accelerate the process by heating them, but you don't need to so I didn't and fit after a couple 2 hour walks is terrific).