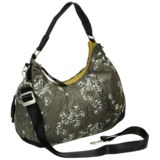 Closeouts. A playful shoulder bag that's fashionable and functional, Haiku's Hobo 2 bag is generously sized with multiple zip pockets.
Average Rating based on
17
reviews
4.941176
0
5
Verified Buyer

Reviewed by PennyPincher from DeSoto Mo on Wednesday, June 24, 2015

What can I say I love it! And so does my son (3) says I can go hunting!! haha

Verified Buyer

Reviewed by big h from nyc on Saturday, June 6, 2015

this bag is great. it has pockets everywhere. inside. outside. on the back. the short handle is big enough to wear on my shoulder. it is very roomy and deep so if you carry stuff this is the bag for you. it is not small. and as an added bonus it resists water and is light. i got the blue print but i am going back for the orange.

Reviewed by belize from berkeley, ca on Tuesday, May 12, 2015

Needed to replace a really old Timbuk2 and thought this bright color would be perfect. Orange is my favorite color so I can't complain about the awesome orange-y-ness of it. It's a bit smaller than my old bag but big enough for what I need most days. I can get all my little "stuff" in, as well as a light sweater and a water bottle. (I don't carry a tablet or laptop.) Although, it says there's a bottle holder and I don't see one in there. As long as the bottle's screwed tight though, the bottle can sit wherever. I only use the bag as a short shoulder bag. I don't like long straps for my purposes--crossbodies and messengers are always hitting my hip when I'm riding. I keep this bag in my front bike basket, strap around the handlebar so it won't get yanked out in traffic or something. I think it's a tough little bag though time will tell. I assume I'll be able to wipe it off when it gets dirty, and as messy as a spill would be inside, I don't think it would damage the bag. I l love the purple contrast zips.The main zip isn't completely attached at the start so I don't unzip it completely, need to leave it at least an inch zipped or I have to dig around at the beginning of the zipper for the pull, if that makes any sense. It was such a great deal, thanks to STP.

Verified Buyer

Reviewed by clothespin from texas on Thursday, July 31, 2014

This is my after diaper bag bag. It has great pockets on the inside- perfect for my wallet and the other is big enough for a thin wipe container and diaper behind it! The bottom of the purse is wide enough too - gives great room for snacks or books or...

The only thing I miss is the key fob on the inside. Not that I ever use it for keys but I have a little zipper pouch that I hooked to one in my diaper bag - kept it from getting lost. However, the very generous sized inside zippered pouch area works well, too.

I also wish the short strap had clips to take it on and off like the longer strap. And have thought of taking it to a shoe repair shop to have them added... But, the short strap fits comfortably over my shoulder so I put the long strap in a drawer and likely won't use it. And the d-rings for the long straps work great to hook car keys onto, also. Not their intended use I'm sure but one that I very much appreciate.

the orange color was a bit - orange. That said, I'm a mommy right now so functionality trumps color... And the fabric seems very durable and washable! Critical with little ones. And really, the orange is pretty. I just can't wear it with my orange shirt!

For the price (with deal flyer coupon - $35) it was a great buy. I might find a more subtle bag for future use but this is great for now and looks to last a long time.

Verified Buyer

Reviewed by PIN from OH on Wednesday, June 25, 2014

bought the smaller size and I loved it, so I bought the larger one when I need to carry more.

Verified Buyer

Reviewed by Amy from Vermont on Friday, May 16, 2014

The bag is a great size for every day use. Water bottles, books, kids cleats- all find a place. I find the two straps to be very useful and not at all cumbersome. I love the orange exterior, love the interior fabric and am a convert to Haiku bags.

Verified Buyer

Reviewed by fossillover from South Bend IN on Tuesday, May 6, 2014

I was not fond of the long handle so I took it off. I use the one that is attached as a shoulder bag handle. It is plenty long enough. I kept the long handle in case I want to use it crossbody.

The orange color is over the top, but I think it's great.

Plenty of pockets to store all my stuff.

Reviewed by JBird from Michigan on Wednesday, January 29, 2014

Love this bag. It's almost too large to use as a day to day purse, but you can fit a ton of stuff in it. It is thick and great quality. I like to use the longer strap and wear as a cross body.

Reviewed by Sugarmom from Utah on Saturday, January 25, 2014

I am a mom of two very active children and this bag works great because i have a pockets for all my needs. The zippers are very sturdy and easy. the straps are nice and wide and i never feel like it is falling off. The material is attractive and seems very durable. My kids spill most things and the bag is easy to wipe off clean. I really love it! I will probably purchase a smaller one for when I don't have to keep so many things with me.

Reviewed by Yael from NJ on Tuesday, January 21, 2014

This is a great bag. I loved it from first site, but loving it just more and more, and I have issues with bags...
This one is great, very comfortable, roomy, well organized, very pretty to my eyes, and for a bonus, made out of recycled bottles.