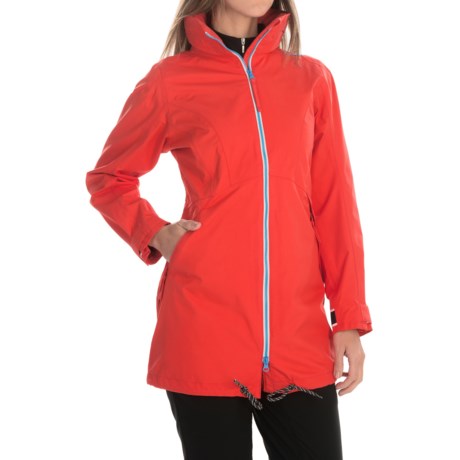 Great jacket, IF you don't mind hood and wrists....
Reviewed by Anonymous from Portland, OR on Tuesday, October 25, 2016
I live in Portland Oregon and need a dedicated raincoat that is both functional and fashionable for wearing around town. When I found this for a steal, I jumped on it. I'm largely glad that I did. I generally dislike the look of "performance" clothing, and this is a perfect compromise between function and appearance.

I have a few STYLING issues though:

1. The wrists have reflective banding on them. That means a black stripe with two vivid white stripes on either side. The black alone could look okay but the white striping totally clashes.

2. I wish I had paid more attention to the hood styling. I knew it was a fold-up hood, which is typically great, but for my purposes it really isn't. The material the hood is made out of is thin and cheap and made out of a glossy clashing black with some print material. Now, if you want to wear this for your your regular coat, it isn't a big deal, but I was planning to wear it to walk the dog etc. in heavy rain. So I would have preferred a regular hood. But that was my miss, and might just be particular to me.

COLOR: I bought the color called soil, and thought that it would be a plain brown. When I got it it was labeled soil green, and is more of a olive brown, more brown than green, but just FYI. I like it a lot.

Regarding FIT: I'm a size 12 with a large bust, so I usually wear XLs on top, and most reviews I read said it ran small, so I bought an extra large. I found that a large would have been just fine, and perhaps more flattering, but the extra large is probably good because of course I will be layering under it. SO I dissent with those who say that it runs small. There are two other particularities: 1) I'm 5-10 and the sleeves were surprisingly long, but that's okay for outerwear; and 2) I actually have a pretty narrow back and shoulders but that area is a bit snug.

WARMTH: definitely light to midweight. It is lined, but with a poly type fabric. For the Pacific Northwest, it will probably be fine to wear all year round with layers under, but if you are in the Midwest etc. you are probably just going to get fall and spring mileage out of it.

I'm not personally sure whether I will keep it or look for something a bit more stylish or with a hood that is cooler, I'm super picky LOL. Regardless, I like it a lot and highly recommended with the caveat that you should take a look at the two styling issues I pointed out. But if you're cool with them, grab it. It is a really, really nice coat at a great price right now.
Most helpful positive reviews
Most helpful negative reviews
Similar items and more information in the following areas: