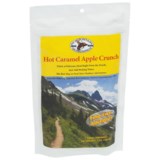 Closeouts. Enjoy Hi Mountain Jerky's Caramel Apple Crunch for dessert or breakfast. It makes three servings and can be prepared in the included pouch or a pot.
Average Rating based on
10
reviews
4.300000
0
5
Reviewed by Davis from SC on Wednesday, March 2, 2016

I was expecting something much much tastier after reading reviews. This had some weird fake taste to it. This one was a bust for me. Didn't even finish it.

Verified Buyer

Reviewed by Nova from Seattle on Monday, June 29, 2015

I took this on a Wonderland Trail trip early this season. In general, the caramel apple crunch is a nice dessert. But be fairly warned, it is best for someone who enjoys a very sweet dessert. I ended up tossing my serving after a few bites because it was simply way too sweet for me.

Verified Buyer

Reviewed by SantaCruzRider from California on Thursday, August 7, 2014

Had this as dessert on a multiday backpacking trip in Northern Yosemite.

Cooked up according to directions and was proper consistency (not soupy like many backpacker meals). Great apple flavor, almost like an apple pie in a bag. Caramel and cinnamon crumble was nice and crisp.

Was a real hit and is one of my new favorites for trips. This is a real winner for me -- and I am not one who loves all dehydrated foods. Also has easy clean up.

Reviewed by Buffalo Bill from Mass on Monday, June 16, 2014

I don't think you can do any better then this for a just add water dessert!

Verified Buyer

Reviewed by Ridge_Blue from Blue Ridge Mtns on Wednesday, April 16, 2014

This freeze-dried product tastes as good as any Apple crunch short of made from scratch, i.e., as good as any canned or frozen product. Like all freeze-dried products, it is easy to prepare. The crunchies are in a separate pouch, which keeps them from getting soggy. If you want Apple Crunch on the trail, this is your best option.

Reviewed by The Coots (Old & Young) from Ohio on Tuesday, August 6, 2013

Thought we would try these on our recent AT trek. Love the apples! Used a little less crunch the second time. The tall thin packaging makes it difficult to eat without cutting down the bag.

Reviewed by Orion72 from South Sound, WA on Tuesday, July 16, 2013

Good portion size for two, especially those with a bit of a sweet tooth. My son was astonished - "this is like a real dessert!" Have already ordered more, as this is one of the better prefab/freeze-dried backpacking desserts I've had.

Reviewed by cny guy from central ny on Sunday, June 23, 2013

after eating the macaroni chili and cajun rice and beand and being really disappointed this was heaven is a ziplock bag

Reviewed by didee99 from Keystone, CO on Wednesday, May 29, 2013

Pretty tasty dessert - a bit sweet for my taste but it is a dessert after all.

Reviewed by WWIINut from West Chester, OH on Monday, May 27, 2013

Very tasty and filling. Its easy to make in either the bag or a pot. In the bag, it is a little hard to spread the crunch and you really just end up mixing it into the apples. I would say it is closer to two servings than three. Also, the "crunch" component is a little light and would have preferred more of it.