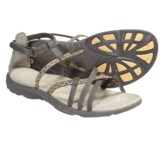 Closeouts. With thin leather and webbing straps and a molded EVA footbed, Hi-Tec Sienna Strap sandals offer dreamy comfort for casual strolls on warm summer days.
Average Rating based on
13
reviews
3.000000
0
5
Verified Buyer

Reviewed by Krewe from NJ on Wednesday, July 8, 2015

I wanted these very cute, strappy sandals to fit! I ordered down (for half sizes) and that was not the problem. The ankle strap (velcro) was way too short--and I do not have thick ankles. I called to order in the next size up, but none were available, so I don't know if that might solve the problem. So, I returned them. Disappointed!

Reviewed by JG from Pennsylvania on Friday, June 19, 2015

I am a 6 in shoes and my feet are narrow. I ordered a 5 based on the reviews. The toe straps really are out of proportion to the overall shoe and let your toes go too far forward. The 5 Is clearly cut correctly in the ankle straps but the toe straps are too wide. Overall quality, craftsmanship and comfort are good but you really need just the right foot For these to fit. I have to keep them now because I've worn them outside. Lesson learned.

Verified Buyer

Reviewed by TeejayDaDeejay from Georgia on Tuesday, June 9, 2015

These are cute and comfy sandals. And you can't beat this price! My only issue is the ankle strap, it fits a bit snug. But that could just be my kankles.

Verified Buyer

Reviewed by Chrissy the Prof from South Carolina on Wednesday, June 3, 2015

I was excited to receive the Hi-Tec Sienna Strap sandals, however, the first time I wore them I quickly realized why they had been on sale. The straps in the back snugly hug the heel but the front straps, which are supposed to secure the toes (and the entire front of the shoe bed) are so loose that they do not securely restrain the front of the foot. Even walking around my home, I found myself nearly face-planting onto to the floor. I am really disappointed in these sandals but I have worn them (once), so I guess I am stuck. I will chalk this up to a lesson learned and try to give them away.

Verified Buyer

Reviewed by bikermama from San Diego on Friday, May 1, 2015

Suitable for wide feet. The front straps are too long and my foot ends up dangling with not adequate support.

Verified Buyer

Reviewed by Anne Marie from Buffalo on Thursday, April 16, 2015

The straps on these didn't fit my feet well and didn't seem secure. The ankle strap portion didnt move well so it felt limiting to walk in. I sent them back.

Verified Buyer

Reviewed by mj the all terrain sandal wearer from minnesota on Saturday, January 31, 2015

they are really light weight and fit like a glove.

Reviewed by Storytime Jenn from Georgia on Sunday, December 21, 2014

I couldn't even put both shoes on to test them. The strap was sharp and scratchy where it meet the footbed. I took the shoe off and examined it for something sticking out. I couldn't figure out why it felt so painful on my foot.

Verified Buyer

Reviewed by Jef from Ecuador on Monday, November 10, 2014

You can't go wrong with these!!

Reviewed by A. from MA on Thursday, July 3, 2014

While being neither too small nor too big, these sandals seemed both too tight, and also like they were about to fall off. The thin straps hit your foot in weird places, making it hard to walk, but also the shoe isn't secure enough so your foot flops around in the shoe. Not comfortable at all! The only strap that is adjustable is the ankle strap, when really you need adjustable foot straps to be able to get the right fit. Since these were so cheap, I thought it might be good to have an extra, throw-away pair of sandals like this for camping and vacationing, but I'd never wear them--too uncomfortable even for a spare.