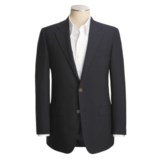 Closeouts. One of the most versatile -- and flattering -- items a man can add to his wardrobe, Hickey Freeman's solid worsted wool blazer visually lengthens the body with its elongated V lapels.
Average Rating based on
118
reviews
4.381355
0
5
Verified Buyer

Reviewed by Snappy Jack from Arkansas on Tuesday, November 10, 2015

Just what we hoped for - a USA made, high quality blazer. A great investment.

Verified Buyer

Reviewed by txclothinglover from Dallas on Wednesday, November 4, 2015

I'm 5'4", 140#. My sleeve length is 32. The 38 Short fit me perfectly out of the box. This is the first time in my entire life I have not had to have sleeve length shortened on a dress jacket. I'm thinking that the usual sleeve length on a 38S jacket is longer, so that could be a problem if you have long or even average arm length. Mine is black and the trim, Milburn model (on inside label). A previous reviewer pointed out that one he ordered in deep navy was a different model and fit completely different than the Milburn ones. The cut is modern with natural looking shoulders and a moderately slim, yet classic appearing and not too slim. I'm not wild about the copper coin image buttons, but they, like everything else about this jacket, are of good quality.

Verified Buyer

Reviewed by Don from Michigan on Friday, August 14, 2015

Nice fit, great materials, very nice lining.

Verified Buyer

Reviewed by DW from Texas on Tuesday, June 2, 2015

Another reviewer noted the sizing differences, including that the navy is a trim fit. That was what was desired, but it was too narrow in the shoulders. I have owned many Hickey products, and this one was very oddly sized. It was returned.

Verified Buyer

Reviewed by Dirtworm from District of Columbia on Wednesday, May 27, 2015

Hickey Freeman is, without a doubt, some of the finest off-the-rack clothing available. The workmanship and material is absolutely gorgeous. And at basically 50% off retail, Sierra's prices should not be passed up.

Unfortunately, I ended up returning this jacket as it was a very, very narrow/trim cut. I would not be surprised if the size was mislabeled. Having said this I would not hesitate purchasing other HF products from Sierra in the future.


Verified Buyer

Reviewed by Gator from Connecticut on Monday, April 27, 2015

a high quality, extremely nice looking blazer. i would certainly recommend Hickey Freeman over most all of the brands offered.

Reviewed by [...] John from Colorado on Wednesday, April 1, 2015

This is the second blazer I ordered of this specific advertised product. I gave the first one (42R Navy) a 5 star review. It was so good I immediately ordered the deep navy. It turns out they are not the same.

The navy one that was perfect for me is a Milburn model and fit right out of the box. The deep navy is a Lindsey model and was way too big through the middle. It's a completely different fit. The construction and material of the deep navy Lindsey are great, and it has metal buttons (though not the ones pictured on the website). Unfortunately it would take substantial tailoring to make the Lindsey jacket fit. Probably still a great buy if it fits your shape, but not for me, so it's going back. Fortunately STP is great about returns. Minus one star for the misleading product presentation but not the jacket itself.


Reviewed by [...] John from Colorado on Monday, March 23, 2015

I wear a jacket to work just about every day and try to keep a decent seasonal rotation. Thanks to STP I can do so without going broke. I've tried a lot of options, including MTM, and this HF is my new favorite (along with a navy Jack Victor hopsack also purchases at STP). All my other jackets need significant tailoring, including supressing the waiste and adjusting the sleeves. At 5'11, 185 with a true 34 waist, the 42R fit me perfectly and even the sleeve length is right. That's never happened before. I received the navy Milburn model with side vents and metal buttons. The buttons are nice and not at all shiny, just as pictured. There are only 3 buttons on each sleeve, but I think it looks fine and have no intention of replacing the buttons (though I would if they were navy plastic). The material and drape are great. The smooth worsted wool is on the thin side, which is good because I intend to wear this in the warmer months. I have no indication this jacket is a second and all seams look good. I have been watching this jacket and waited almost a year to purchase. I should have bought it right away. After trying this on and inspecting it, I ordered another in deep navy. Good thing, because they showed out of stock the next day.

Reviewed by Davey Crockett from Tennessee on Friday, March 13, 2015

PROS:

- First, the 40S fit my 165lb 5'8" frame nearly perfectly, albeit slightly more snug in the shoulders than I would prefer.

- The shape of the jacket is very American, but not too boxy like most American suits/ blazers That said, the blazer sports distinctively sharper contours than most Italian or other European suits. Generally I prefer the Italian cut, but the Hickey Freeman jacket here is nonetheless quite a pleasing shape.

- Deep Navy is a great color, and should pair with a wide variety of pants and shirt combos, casual or more formal. It's a true Navy, quite dark, but not black. The kind of Navy Blue that you'd find in a traditional American Navy Peacoat.

- The Worsted Wool material is spectacular.

- Made in USA!


CONS:


- Slightly too snug at the shoulders--prohibitive if, for example, I wanted to get a sweater underneath

- THE DEAL KILLER: Appears to be a "2nd" because the left sleeve is bunched up noticeably where it attaches to the shoulder; A flaw where there is a "gap" in material circumventing the sleeve at the shoulder; you can see it on the outside surface, and feel it inside when you run your fingers across the gap;


All these great pluses, so it REALLY pains me to return this jacket.



Verified Buyer

Reviewed by tcrnopets2 from Pennsylvania on Thursday, February 19, 2015

As above, US made, the usual H-F handwork and weird linings. Was wrong size as ordered, and correct (a Long) not available. So regretfully returned.