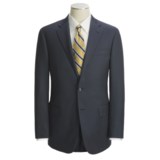 Closeouts. Hickey Freeman's solid suit uses fine imported worsted wool and features precision tailoring for a fine addition to your wardrobe that can be worn year-round.
Average Rating based on
10
reviews
3.800000
0
5
Reviewed by Disappointed from California on Monday, July 1, 2013

Love this designer normally. Not sure if these items are "seconds" or ones that went wrong in production based on what we received. The suit was cut about one size smaller than the label size and was about 2 inches too short in the sleeves so had to return. Shame though because it's a nice product if you can get the right size!

Reviewed by The Lip from Miami Beach, Florida on Sunday, June 16, 2013

This suit did not live up to the standards of a true Hickey Freeman. Putting in a label inside does not do it for me. Sent it back.

Verified Buyer

Reviewed by Vince from Washington DC on Tuesday, December 25, 2012

High quality suit, very good fabric. Cut is not the traditional ample Hickey, instead is a slightly modern, slimmer but not slim fit cut. These aren't the high dollar Hickeys, rather a less expensive line using the same Hickey fabric. Great suit all around and will take less tailoring than the traditional fat cat Hickey cuts. I bought three and my tailor was impressed for the money.

Verified Buyer

Reviewed by runrobrun from Spring Lake, NJ on Monday, December 10, 2012

Great Suit at incredible price!

Verified Buyer

Reviewed by need another suit from Phila PA on Thursday, November 1, 2012

I have another HF suit direct from the rack. I could not pass this one up because of the price. You get what you pay for.

The pants were ok, fabric not as nice as other HF I have. The fabric on the jacket and over all construction was not good. Seams were not strait and fabric was stretched too tight in the top of the back of the jacket. It's going back.

Verified Buyer

Reviewed by Sandy Toes from HB, CA on Monday, October 29, 2012

We took the suit to Nordstrom to be taylored. The Taylor said, "nice suit".

Verified Buyer

Reviewed by Kate from Boise, Idaho on Tuesday, October 2, 2012

I absolutely love this suit. I convinced my husband to buy online and he LOVES the suit. I thought we would not be able to buy a Hickey Freeman for atleast another five or ten years... sooooo glad we found this site!!!

Best Uses: Attorney In Boise Idaho, Client meetings
Pros: Beautiful fabric and cut

Verified Buyer

Reviewed by Roger the dodger from Fort Worth, TX on Tuesday, September 25, 2012

Description needs more detail, i.e., cenrer or side vents, plain front or pleats. Can probably be worn year around where I live, but not where the snow falls deeply enough to cover your ying- yang.

Pros: Quality tailoring, Very nice material

Reviewed by Toq from Washington, DC on Tuesday, September 11, 2012

This is a decent suit, but shoppers need to understand that this suit is either a "Lindsey" or a "Milburn" model, both of which are what are referred to as "diffusion lines," meaning that they are cheaper variants of standard offerings made to be sold by discounters such as STP. This does not mean they are bad suits: the one I just got appears to be well made, and it is half-canvassed. I'm always pleased to buy USA-made goods. In brief, this is a good suit for what I paid. But they are not as good as the $1k + Hickeys one finds at high end department stores. So it's a good value, but not the steal you might think you are getting when you see the name Hickey Freeman. Because it's a diffusion model, it becomes difficult to know what price is, in fact, a good one. That's up to you.

Verified Buyer

Reviewed by Boston Bicycler from Boston, MA on Monday, August 6, 2012

A great quality suit for a heavily discounted price. The key is to go to a retailer and determine your correct jacket size before ordering. Find a tailor who can then adjust the sleeves and hem the pants.