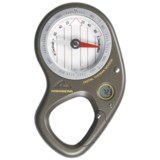 Closeouts. The compact High Gear TrailPilot 2 compass is the ideal companion for backcountry ventures, featuring analog map compass with rotating bezel, digital thermometer and carabiner-style clip.
Average Rating based on
16
reviews
1.875000
0
5
Verified Buyer

Reviewed by 2nd Bass from California on Tuesday, January 20, 2015

Couldn't get the thermometer to work.

Verified Buyer

Reviewed by Bill the Adventurer from Texas on Monday, January 5, 2015

I was extremely disappointed that this didn't work properly. The compass does work, but the thermostat did not. I tried to give it no stars but the program wouldn't let me.

Verified Buyer

Reviewed by Fletch from Indiana on Wednesday, June 18, 2014

Piece of Junk...compass is far from accurate and temperature gauge did not work even with fresh battery. Avoid this product.

Reviewed by Carol from Colorado on Wednesday, March 26, 2014

Everyone needs to carry a compass, and this one is light and convenient. I bought it because I also wanted a thermometer.
The compass works great, but the product arrived with a dead battery, and it appears that the battery had died because the button that turns it on was broken into the 'always on' mode. I'm returning, but will try another one.

Reviewed by Sweet Pea from Monterey on Friday, January 3, 2014

Compass way off and thermometer doesn't work. As useless as tests on a boar hog.

Reviewed by Hiker Tim from Upstate NY on Tuesday, December 31, 2013

The compass is fairly easy to read, though not sure how accurate it is....The Thermometer did not work at all when I got it...pretty cheap product...

Reviewed by RuralRunner from Iowa on Monday, December 30, 2013

Compass seems to work ok, temperature guage does not work due to dead battery. Cannot find that size battery locally, too much hassle to order online. Not going to waste the time to return. The quest for a new battery will continue...

Reviewed by Matt from Arizona on Monday, October 7, 2013

The compass aspect of this little device works well and as expected. The thermometer aspect, though not of real importance to me personally, didn't work out of the package. Whether the included battery was DOA or there's something funky internally, the temperature readings don't show up. If I was truly bothered by this, I could always swap the battery out but, for me, it's not a big deal. It's light, the clip is strong, and the compass points North ... fits what I needed for a few dollars.

Reviewed by Susan from Elgin Illinois on Monday, October 7, 2013

The battery for the thermometer was dead on arrival with this item. Also, the compartment that holds it is difficult to open and then resecure. I'm not sure that it will keep water out when I take it on my next trip. However, the compass part looks durable and since it is not battery dependent, should work just fine in a downpour.

Reviewed by Frederick J. Chiaventone from Weston, Missouri on Friday, September 6, 2013

While this appeared to be a very useful item for hiking/climbing where it's very useful to know the temperature as well as direction the thermometer simply didn't work at all. Returned the item to Sierra Trading Post and requested a working replacement, noting the problem and asking for a pre-shipment check of the replacement.. Alas, the replacement was as useless as the first item. Opening the battery compartment one finds that this one as well was corroded inside. No cleaning of the battery compartment or replacement battery would correct the problem thus it too had to be returned. This proved to be a waste of time, effort and money. Not recommended.